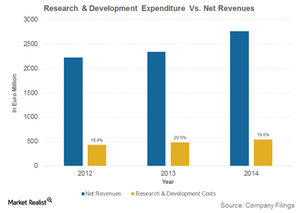 Why Ferrari Spends So Extravagantly on Research and Development
High research and development expenditure
Ferrari spends extravagantly on research and development to stay ahead of its peers and to keep its products unique. According to the data presented in the company's interim report filed with the U.S. Securities and Exchange Commission, it allocated between 19-21% of its net revenues for research and development between 2012 and 2014.
This percentage is more than double what other automobile giants like General Motors (GM), Ford Motor Company (F), Toyota (TM), and Renault (RNLSY) spend on their research and development. The First Trust US IPO Index Fund ETF (FPX) invests 4.8% of its total portfolio in General Motors (GM). Facebook (FB) makes up 9.7% of the fund.
Article continues below advertisement
Development and design of racing cars
Ferrari (RACE) also incurs significant developmental expenses in Formula 1 racing activities. These expenses are considered important by the company to support the development of sports and GT car models and prototypes. Ferrari also transfers the technology primarily developed by its racing team to its sports and GT models across all core vehicle development areas.
Interestingly, in order to ensure the smooth transfer of technology, the company also allows employees to transfer between its Formula 1 research and development team and its sports and GT cars development team. For a luxury car manufacturer like Ferrari, it's crucial to remain technologically ahead of the competition to maintain its image.