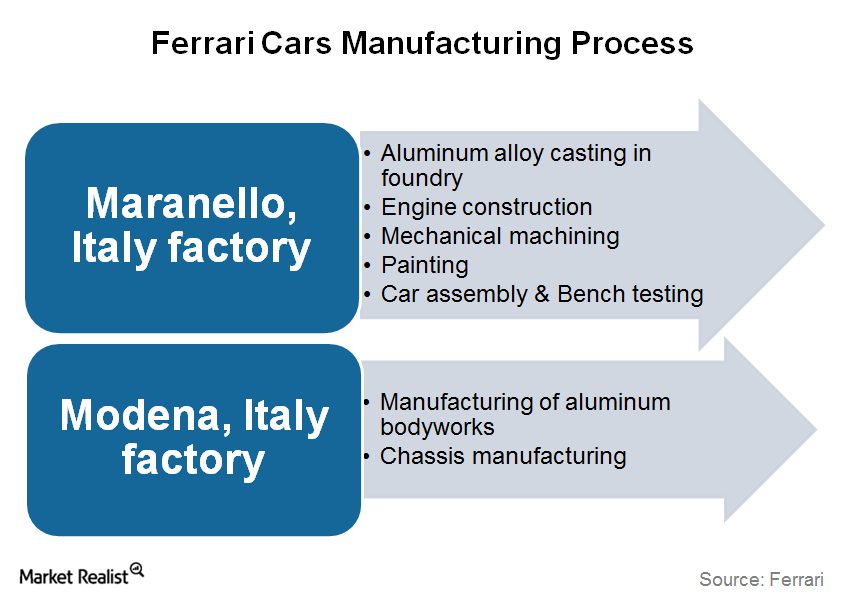 How Ferrari Manufactures Its Luxury Cars
Manufacturing process
Ferrari (RACE) owns two manufacturing units in Italy: one in Maranello and one in Modena. Maranello is the bigger facility where all major manufacturing operations take place. Let's have a look at the manufacturing process of Ferrari at these factories.
Article continues below advertisement
Maranello factory
The company's key manufacturing unit is located in Maranello, Italy. Initially, this factory was the hub only for Ferrari's racing team, Scuderia Ferrari. In 1944 during World War II, the facility was damaged in a bombing. However, it was rebuilt in 1946. Apart from the corporate office, this facility also houses Ferrari's design, development, and production activities. This manufacturing facility measures nearly 630,000 square meters.
Some of the primary functions of Ferrari's car manufacturing process that take place at its Maranello factory are:
aluminum alloy casting
engine construction
mechanical machining
painting
car assembly
bench testing
Modena factory
Ferrari's second manufacturing plant, Carrozzeria Scaglietti, is located in Modena, Italy. It is nearly 25 kilometers away from Ferrari's headquarters in Maranello. This manufacturing facility has approximately 26,000 square meters of space, which is much smaller than the company's primary factory in Maranello. However, this plant is still quite significant to Ferrari's operations, as it manufactures aluminum body works and chassis for all types of Ferraris. Apart from these two factories, Ferrari also owns two racing tracks.
Article continues below advertisement
Other notable automobile manufacturers located in Italy are Maserati and Alfa Romeo brands, owned by Fiat Chrysler Automobiles (FCAU), and Lamborghini, owned by Volkswagen (VLKAY). Fiat Chrysler Automobiles makes up nearly 1.4% of the First Trust US IPO Index Fund ETF (FPX). The fund also invests 4.6% of its portfolio in General Motors (GM).
Outsourcing
To ensure the quality of each of its components, Ferrari tries to keep most of the manufacturing work in-house. But still there are many car components Ferrari sources from outside. Ferrari chooses its suppliers carefully to maintain its high standards.
Some of the major components that are outsourced include:
transmissions
brakes
driving-safety systems and navigation systems
castings and tires
other small mechanical, electrical, electronic, and plastic components