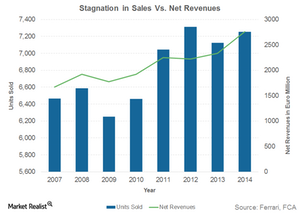 How Ferrari Manages to Remain Profitable
Maintaining exclusivity
Being a luxury car manufacturer, Ferrari (RACE) strives to stun target consumers with its vehicle designs. The company wants to maintain exclusivity by producing cars in low volume with high margins. Ferrari targets consumers with higher levels of disposable income. By doing so, despite visible stagnation in sales figures, Ferrari manages to remain profitable. In May 2013, the company announced its intentions to keep production lower than the previous year to preserve exclusivity.
Article continues below advertisement
Excellent pricing power
By focusing on extraordinary vehicle design and exclusivity, Ferrari is able to sell luxury cars with high-profit margins to end consumers. Increasing profitability with high margins has been a key driver to revenue growth for Ferrari. Ferrari focuses on the exclusivity of its products rather than worrying about sales figures unlike other luxury car manufacturers such as Porsche (POAHF), Daimler (DDAIF), Renault (RNLSY), General Motors (GM), and Toyota (TM). Note that General Motors (GM) makes up nearly 4.6% of the First Trust US IPO Index Fund ETF (FPX).
Focus on limited edition cars
As noted earlier in this series, Ferrari has brought in upgraded variants of its most popular cars as limited editions from time to time. Such limited editions have a reputation of developing curiosity among sports car enthusiasts.
For example, Ferrari's exclusivity paid off in 2013 when Ferrari unveiled its limited edition LaFerrari at the Geneva Auto Show. According to Ferrari officials, the company received more than double the orders of its production run well before its official launch. The car is the fastest street-legal car produced so far by Ferrari. Only ~500 LaFerrari luxury cars were built to ensure the rarity of the luxury car model.
Overall, Ferrari sold ~7,200 luxury cars to end consumers in 2014 compared to 7,000 cars sold in 2013.
EBITDA margin and asset turnover
The company's ability to maintain its popularity among high-performance car enthusiasts provides it an edge over the competition.
Ferrari reported EBITDA margins of 25.1% in 2014, which is quite high as compared to other luxury car manufacturers as well as the industry average. Its high profitability (EBITDA margin) is a reflection of the company's brand value. The company's asset turnover stood at 0.65 in 2014, which is on par with other industry giants like Toyota (TM) and Volkswagen (VLKAY).