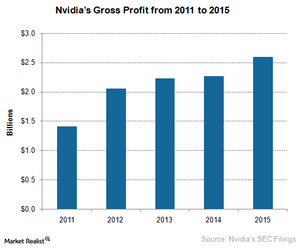 What External Risks Pose Threats to Nvidia?
Other risks
In the previous part of the series, we looked at the competitive risks faced by Nvidia (NVDA) in the GPU (graphic processing unit) market. Let's look at the other technological, strategic, legal, and market risks faced by the company.
Article continues below advertisement
Technological risk: Product defects
If any defects were found in Nvidia's products, the company would have to incur significant costs related to warranty, support, and repair or replacement. In addition, it would lose market share to its competitors, and its engineering resources would be diverted toward resolving the issue.
A greater risk would arise if a defect were found in new products after commercial shipment had begun, as this would result in the loss of a design win and customer trust. If the situation were to become a product recall, it would also add huge litigation costs.
Strategic risk: Factors affecting gross margin
The company's gross margin depends on various factors such as product mix, product transition, manufacturing cost and yield, and discounts and pricing strategy of competitors. Any wrong decision related to these factors would hamper the company's profitability.
While Nvidia continues to invest largely in its high-growth market of gaming, it is looking to increase its presence in the automotive market.
Article continues below advertisement
Legal Risk: Licensing
The company licenses its IP (intellectual property) to device manufacturers in return for a fee. It has a six-year patent cross-licensing agreement with Intel (INTC), under which it earns an annual revenue of $1.5 billion.
However, there is the risk that Nvidia may not be able to renew the license agreement or that other companies may use Nvidia's IP without paying a licensing fee.
In December 2015, Nvidia lost a patent lawsuit against Samsung (SSNLF) and Qualcomm (QCOM). Nvidia has appealed the ruling, and the final verdict is due in February 2016.
Market risk
Nvidia has offices in more than 20 countries and earns most of its revenue from Taiwan and China. This exposes the country to international risks such as foreign currency headwinds, uncertain political and economic conditions, and the imposition of regulations on foreign investment.
A slowdown in China's smartphone market and its delay in LTE (long-term evolution) deployment affected the sales of almost all communications semiconductor companies.
The PowerShares QQQ ETF (QQQ) has ~8% exposure to the semiconductor market. It has a 0.34% holding in NVDA and 1.4% in QCOM.