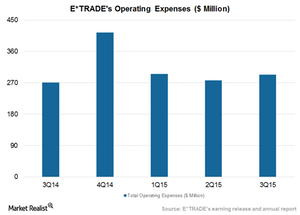 E*TRADE's Expenses Are Expected to Rise in 2016
By Robert Karr

Updated
Increased spending
E*TRADE's (ETFC) major expenses include advertising and market development, compensation and benefits, FDIC (Federal Deposit Insurance Corporation) insurance premiums, clearing and servicing, and professional services. The company incurred total expenses of $293 million in 3Q15.
EFTC's expenses rose by $16 million in 3Q15 compared to the previous quarter and $22 million compared to 3Q14. The company's debt reduction over the past few quarters has led to a rise in its credit rating by eight notches.
E*TRADE refinanced its new debt at a lower cost. The overall structuring resulted in a 70% fall in total debt service costs for E*TRADE totaling $50 million. Overall in 2015, expenses are expected to rise in the mid- to high-single digits.
Article continues below advertisement
Reduction in provisions
E*TRADE's loan portfolio ended the June quarter at $5.3 billion. The portfolio contracted ~$4 billion from the prior quarter. This fall was mainly due to higher-than-average prepayments by its borrowers.
The company reduced its allowance to $376 million, or 7.1% of total loans, at the end of 3Q15. This lower-end reserve balance combined with only $1 million in net charge-offs resulted in $25 million in provision benefits for the quarter.
Since the company is maintaining healthy reserves, it's adjusting its expected provision range for the current year to zero to $20 million per quarter. For 2016, the company is forecasting provisions from its prior range of $20–$30 million per quarter.
Here's how a few of the company's peers in the brokerage industry fared in terms of gross margins:
Interactive Brokers (IBKR) posted a gross margin of 93.5%.
TD Ameritrade (AMTD) posted a gross margin of 99.8%.
Charles Schwab (SCHW) posted a gross margin of 98.3%.
Together, these companies form 4.5% of the First Trust Dow Jones Internet Index ETF (FDN).