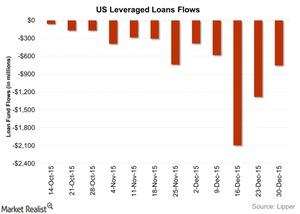 December Saw the Highest Outflows of Leveraged Loan Funds in 2015
By Lynn Noah

Dec. 4 2020, Updated 10:52 a.m. ET
CLO deals rose in December
In December 2015, 12 CLO (Collateralized Loan Obligation) deals worth $5.8 billion were priced. Meanwhile, in the previous month, nine CLO deals worth $4.5 billion took place. Year-to-date, CLO deals worth $96.3 billion have been struck through 185 deals according to S&P Capital IQ's Leveraged Commentary and Data.
Article continues below advertisement
Leveraged loan funds saw outflows
According to data from Lipper, leveraged loan funds saw an outflow for the week ended December 30, 2015, making it the 23rd such week. With this outflow, the total outflow in December stood at $5.1 billion up to the week ended December 30. This was the highest outflow in 2015 when compared to $1.7 billion outflows in November 2015.
The total net outflows from leveraged loan funds in 2015 stood at $16.4 billion, or marginally higher than the $16.2 billion recorded in 2014.
Senior loans are tracked by mutual funds such as the Oppenheimer Senior Floating Rate Fund (OOSAX) and the Fidelity Advisor Floating Rate High Income Fund (FFRAX).
Loans of Avaya (AV), Par Pharmaceuticals Companies (PRX), and Neiman Marcus are among the holdings in the OOSAX fund. Meanwhile, loans of Hilton Worldwide Holdings (HLT), Albertson Company (ABS), and Dell are among the holdings in the FFRAX fund.
In comparison, high yield bond funds recorded outflows of $8.0 billion in December compared to outflows of $1.7 billion in November.
There was no leverage loan issuance in the primary market for two successive weeks in December 2015. Issuers of leveraged loans in other weeks of December included AMC Entertainment, a wholly owned subsidiary of AMC Entertainment Holdings (AMC), ClubCorp Club Operations, a subsidiary of ClubCorp Holdings (MYCC), as well as Konecranes Terex Plc, the merged entity formed from Konecranes Plc and Terex Corporation (TEX), not to mention Cable & Wireless Communications Plc and Microsemi (MSCC).
Returns on leveraged loans
Returns on leveraged loans fell month-over-month in the 30 days ended December 30, 2015. The S&P/LSTA U.S. Leveraged Loan 100 Index fell 1.3% from a month ago. And in 2015, the index fell by 2.8% on a year-over-year basis. Meanwhile, the Fidelity Advisor Floating Rate High Income Fund (FFRAX), providing exposure to senior loans, fell 1.6% month-over-over. In 2015, the FFRAX fund returned 0.1%.
For more mutual funds analysis, please visit Market Realist's Mutual Fund page.