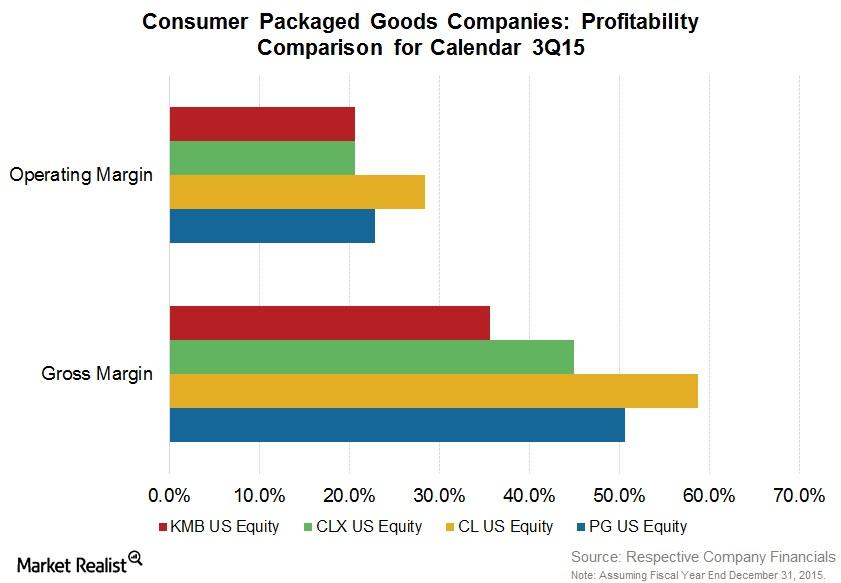 Consumer Packaged Goods Companies Saw Improved Margins
Improved margins for calendar 3Q15
CPG (consumer packaged goods) companies' 3Q15 margins sent strong signals. Companies have been investing heavily in innovative products and other growth initiatives. This is impacting their margins.
Article continues below advertisement
Productivity savings
Procter & Gamble's (PG) reported gross profit margin rose by 260 basis points to 50.7% in calendar 3Q15 compared to calendar 3Q14. Despite a negative foreign exchange impact of 60 basis points, the core gross margin rose by 250 basis points. The increase was primarily due to productivity cost savings. The operating profit margin for calendar 3Q15 was reported at 22.8%—compared to 19.4% in calendar 3Q14[1. C3Q15 for PG and CLX is 1Q16].
Clorox's (CLX) calendar 3Q15 gross margin also rose by 220 basis points to 45%—compared to 42.8% in 1Q15. The increase was driven primarily by the benefits of cost savings. The operating profit margin also rose to 20.6% in calendar 3Q15—compared to 18.3% in calendar 3Q14. This was due to higher sales. It reflects strong volume growth and price increases. It was partially offset by higher manufacturing and logistics costs.
Pricing actions and "Funding the Growth" initiative
Similarly, Colgate-Palmolive (CL) and Kimberly-Clark (KMB) also reported an improvement in their margins and profitability. Colgate reported a gross margin of 58.7% in the third quarter. The quarter ended on September 30, 2015. The operating margin also rose to 28.4% in 3Q15—compared to 21.7% in 3Q14. The rise in Colgate's margins was due to pricing actions and its "Funding the Growth" initiative.
Kimberly-Clark's gross margin and operating margin came in at 35.7% and 16.5% for 3Q15, respectively. The increase was due to significant cost savings. Kimberly-Clark has exposure in the iShares Core High Dividend ETF (HDV). It accounts for 1.2%[2. Updated as on January 5, 2016] of the portfolio's total weight.