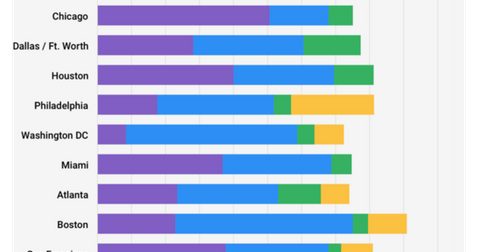 Comparing the Pharmacy Giants: Walgreens versus CVS Health
By Sonya Bells

Updated
Walgreens versus CVS Health: Market share
Walgreens Boots Alliance (WBA) and CVS Health (CVS) largely dominate the US drugstore market. According to July 2015 research by Barclays' Meredith Adler on drugstores in the United States, together, CVS Health and Walgreens Boots control at least half of the drugstore market share in 70 of the top 100 metropolitan areas.
While Walgreens Boots controls more than half of the market in cities such as Chicago, St. Louis, Milwaukee, and Memphis, CVS Health controls more than 75% of the market in Boston, Providence, and Honolulu. Walgreens Boots has a total of 8,100 stores in the United States, while CVS Health has 7,800.
Article continues below advertisement
Market share to increase after acquisitions
The market shares of both CVS Health and Walgreens Boots will increase once they complete the acquisitions they announced in 2015. While CVS Health announced in June 2015 that it would be purchasing Target's (TGT) 1,660 pharmacies, Walgreens Boots announced its acquisition of Rite-Aid in October 2015. Rite Aid is the third-largest US drugstore chain, with a store count of 4,600 stores. The acquisition of Rite Aid would bring Walgreens Boots' store count to 12,700 stores in the United States, compared with CVS Health's store count of 9,400 following the completion of the deal with Target.
Addition of pharmacy-benefit business to the portfolio
To gain more control over drug prices, both CVS Health and Walgreens Boots have entered the pharmacy-benefit business. Pharmacy-benefit managers mainly process prescriptions for insurance companies or corporations and use their size to negotiate better deals with drug makers and pharmacies.
With its acquisition of Caremark in 2007, CVS Health became one of the largest pharmacy-benefit managers in the United States. As a part of the Rite Aid deal, Walgreens Boots will gain Envision Pharma, the pharmacy-benefit management company that Rite Aid acquired at the beginning of 2015.