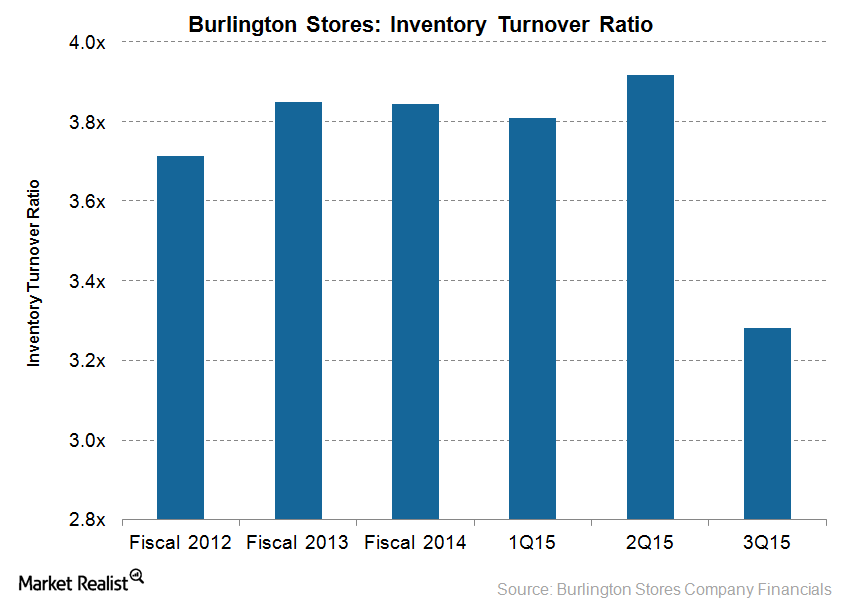 Burlington Stores Strives to Improve Inventory Management
By Sirisha Bhogaraju

Jan. 14 2016, Updated 10:07 a.m. ET
Assessing Burlington's inventory management
Burlington Stores (BURL) is working on improving its inventory management to enhance its profitability. The company's strategy to open smaller format stores is helping it in lowering its inventory levels. At the Goldman Sachs Global Retailing Conference held in September 2015, Thomas A. Kingsbury, Burlington Stores' President, CEO (chief executive officer), and Chairman, stated that the company was able to reduce its comparative store inventory by over 50% over the last six years.
Article continues below advertisement
Initiatives to improve inventory management
In its 4Q14 conference call, Burlington Stores' CEO stated that the company will continue to reduce its comparative store inventories by high single digits to low double digits. The company is also working on reducing the proportion of old product it has in its stores and have as many fresh products as possible, or goods that were received within the past 30 days. Burlington Stores constitutes 0.1% of the portfolio holdings of the Vanguard Consumer Discretionary ETF (VCR).
The company was also able to increase the percentage of the pack and hold inventory in fiscal 2014 ended January 31, 2015, to 27% of the total inventory, up from 18% in fiscal 2013. Pack-and-hold inventory represents the opportunistic purchases made by off-price retailers to take advantage of manufacturer overruns and canceled orders both during and at the end of a fashion season.
Article continues below advertisement
Peer comparisons in inventory management
Burlington Stores lags behind its peers TJX Companies (TJX) and Ross Stores (ROST) when it comes to two key inventory management metrics: inventory turnover ratio and days of inventory outstanding. In fiscal 2014, Burlington Stores' inventory turnover ratio was 3.85x, while TJX Companies and Ross Stores reported inventory turnover ratios of 6.7x and 6.0x, respectively. Days of inventory outstanding for Burlington Stores came in at 94.7 in fiscal 2014, compared to 54.2 and 60.3 for TJX Companies and Ross Stores, respectively, over the comparable period.
In 3Q15, which ended October 31, 2015, Burlington Stores' inventory turnover ratio improved to 3.3x from 3.1x in the comparable quarter of the previous year. (For more on the inventory management skills of TJX Companies and Ross Stores, check out Market Realist's "TJX Companies' Best-in-Class Inventory Management" and "A Look at Ross Stores' Superior Inventory Management Skills.")
This reduction in comparable store inventories will likely help Burlington Stores reduce the instance of markdowns, thus helping in improving margins. So now let's discuss Burlington's margins.