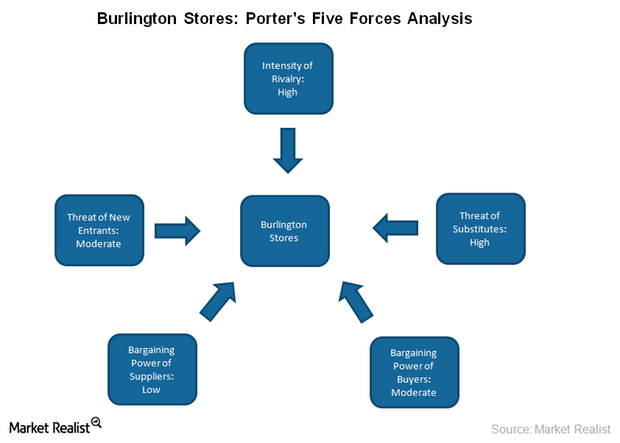 Burlington Stores' Market Positioning in 2015 and Beyond
The intensity of rivalries in the off-price retail industry
Developed by Harvard Business School professor Michael E. Porter, Porter's Five Forces model is a framework for analyzing the level of competition within an industry. The five basic forces that are used in this analysis include the following:
the intensity of rivalry within the industry
the threat of substitutes
the threat of new entrants
the bargaining power of buyers
the bargaining power of suppliers
As we discussed previously in this series, rivalry in the off-price retail space is getting intense, with more and more department stores entering the industry. This is occurring as more and more consumers are always "looking for a deal," and sometimes won't buy until they see deep price cuts. In fact, many consumers expect these deals.
Article continues below advertisement
Aside from the established players like TJX Companies (TJX), Ross Stores (ROST), and Burlington Stores (BURL), the upscale department store Nordstrom (JWN) has also been expanding rapidly in the off-price space through its Nordstrom Rack stores. In 2015, Macy's (M) and Kohl's (KSS) also entered the off-price space. Burlington is also subject to rivalry from online retailers and specialty stores.
Reading the bargaining power of buyers and suppliers
Off-price retailers resort to opportunistic buying from an expansive universe of vendors. Burlington makes its purchases from about 5,000 vendors. By contrast, TJX Companies makes its purchases from over 17,000 vendors. Ross Stores, on the other hand, maintains strong ties, with about 8,200 merchandise vendors and manufacturers, which facilitates in obtaining better discounts. Suppliers have very low bargaining power in the off-price space.
Article continues below advertisement
Burlington Stores targets the value-conscious, middle-class consumer. The number of customers making purchases at the company's stores is large while the basket size of the individual purchases is small. However, fluctuating costs for consumers remains low as buyers can easily switch to another off-price retailer or a mid-tier department store. These factors reflect the moderate bargaining power of buyers.
Gauging the threat of new entrants and substitutes
Off-price retailing requires high capital requirements, strong supplier relationships, an efficient inventory management system, and a low-cost structure. This creates some barriers for the entry of new players. The discounted merchandise sold by Burlington Stores and other off-price retailers across categories like apparel, accessories, and home merchandise is not highly differentiated. This makes the threat of substitutes high for Burlington Stores and the off-price industry. The iShares Russell 2000 Growth ETF (IWO) has 0.3% exposure to Burlington Stores.
Continue to the next part for a key rundown of Burlington's key product categories.