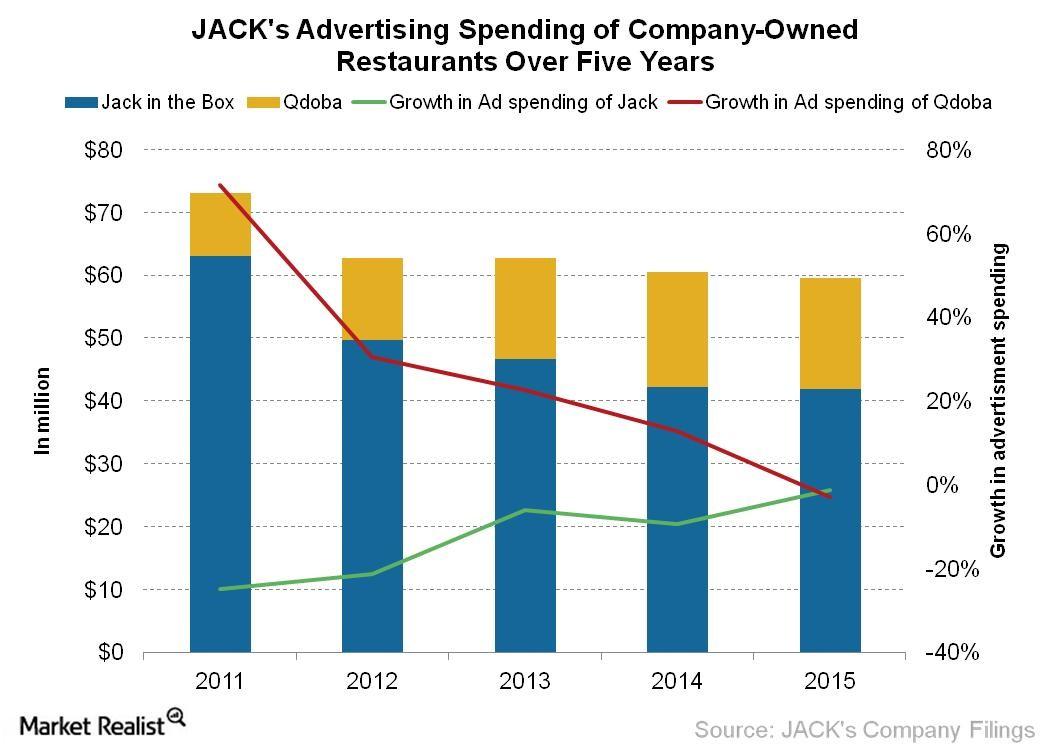 Analyzing Jack in the Box's Marketing Strategies
Importance of marketing
Marketing plays a crucial role in building a successful restaurant business. Marketing and promotion have the potential to increase transactions, or traffic, at restaurants, thereby increasing overall revenues.
Article continues below advertisement
Contribution from restaurants towards marketing
Jack in the Box (JACK) manages marketing funds that include contributions from both its franchises and company-owned restaurants. In 2015, the franchisee-operated and company-owned restaurants of Jack in the Box paid 5% of their overall sales towards this fund, while Qdoba restaurants contributed 2% of their total revenue.
The graph depicts how advertising spending by company-owned restaurants for Jack in the Box has come down over the last five years due to a decrease in the number of company-owned restaurants. The contribution to the marketing fund from Qdoba's company-owned restaurants has increased due to an increase in overall sales.
The company has used this money to advertise its products via television, print media, web portals, and social media networks. With the intention of increasing brand awareness, the company has regularly screened its commercials during Super Bowl games. The company's SMS (short message service) marketing has yielded good results, resulting in a coupon redemption rate three to five times higher than that seen with email marketing.
Article continues below advertisement
How the marketing strategy has evolved over the years
In the 1980s, after enjoying initial success, Jack in the Box started to face tough competition from other hamburger restaurants—especially McDonald's (MCD). Sensing this, the company started to reposition itself to target affluent older adults with a higher-quality menu, moving away from targeting families with children. To assert the shift in its positioning, the company reportedly blew up its old cartoony Jack in the Box logo in one of its commercials.
The company's menu, which had revolved largely around hamburgers, became more diverse, including finger foods, chicken sandwiches, salads, and seasoned curly fries. After repositioning itself, the company started to see success again until the E. coli tragedy struck in 1993. The company was accused of serving undercooked meat, which had led to the death of four children. To overcome this disaster, the company released a commercial showing Jack coming back to reclaim his position and to take revenge for his destruction in the 1980s. Since then, the "CEO" of Jack in the Box, Jack Box, has been regularly featured in the company's commercials.
You can gain exposure to the restaurant industry by investing in the Consumer Discretionary Select Sector SPDR ETF (XLY), which has invested 4.8% of its portfolio in McDonald's (MCD), 3.8% in Starbucks (SBUX), and 1.4% in Yum! Brands (YUM).