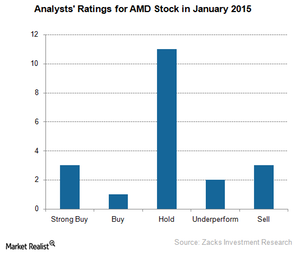 What Do Analysts Think about AMD Stock?
Analysts' rating
So far, we saw that Advanced Micro Devices (AMD) expects its revenue to fall in fiscal 4Q15. The company has been posting losses for the past five years. The company's stock fell as low as $1.67. However, with the new product roadmap and restructuring plan, optimism is increasing. This is visible from analysts' ratings.
AMD stock has a consensus rating of "hold" and an annual price target of $2.43. The most bullish estimate is $5.00. The most bearish estimate is $1.50. As of January 14, 2016, the stock was trading at ~$2.23.
Article continues below advertisement
AMD will increase its market share   
In 4Q14, AMD started pulling out old GPUs (graphic processing units) from its inventory to make way for its new Radeon Fury series and 300 series graphics refresh. AMD's market share fell from 22.5% in 1Q15 to 18% in 2Q15 due to the limited availability of GPUs. However, the company started increasing the availability of its products. Its market share rose to 18.8% in 3Q15. With the increase in the availability of refreshed products, the company will likely regain its lost share over time.
Favorable pricing trend
MKM Partners chip analyst Ian Ing expects that AMD will enjoy favorable pricing trends for GPUs. AMD's R9 series saw a modest sequential fall in prices in fiscal 4Q15. This would help the new GPUs launched in mid-2015 remain competitive and command a decent price. The only AMD GPU that faced a stronger price fall of 6% was the highest-tier R9 Fury X.
Rival NVIDIA (NVDA) enjoyed a more favorable pricing trend. Some higher end chips saw a sequential price increase of 1%–6% in fiscal 4Q15.
In its fiscal 4Q15 results, Intel (INTC) reported a 17% YoY (year-over-year) increase in the average selling price of desktops and notebooks. This shows that consumers are opting for high processor computers. A similar trend could be seen for AMD and NVIDIA too. However, Apple's (AAPL) scale back of the iPhone 6s could impact AMD's sales.
Looking at all of the factors, AMD will likely post slightly better results and better fiscal 1Q16 guidance on January 19, 2016. You can gain exposure in the semiconductor industry through the exclusive Semiconductor ETF (SMH). It has exposure in 26 stocks. It has a 19.3% exposure in Intel and 2.8% in NVIDIA.