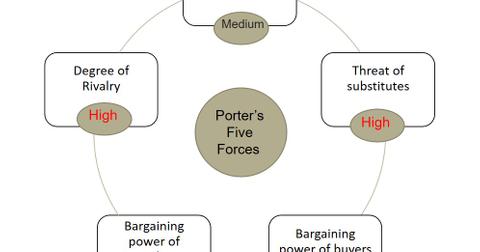 A Porter's Five Forces Analysis of Sprouts Farmers Market
By Sonya Bells

Updated
Porter's Five Forces model
Porter's Five Forces Model is used to assess the nature of competition and attractiveness of an industry. According to the model, the attractiveness of any industry can be gauged by evaluating the impact of the following five forces on the company:
degree of rivalry within the industry
threat of substitutes
threat of new entrants
bargaining power of buyers
bargaining power of suppliers
Article continues below advertisement
Degree of rivalry within the industry
The current US organic food industry is extremely competitive, with players constantly trying to increase their market shares by introducing new products and formats. Organic and natural food products are no longer available at just the specialty organic retailers like Whole Foods Market (WFM) and Sprouts Farmers Market (SFM) but also at supermarket chains like Kroger Company (KR) and mass merchandisers like Costco Wholesale Corporation (COST) and Wal-Mart Stores (WMT), who have successfully introduced a range of natural products to win over customers.
Bargaining power of buyers and suppliers
Sprouts Farmers Market's customers are free to choose any organic food retailer based on better products or lower prices without incurring any additional costs. Sprouts sources its products from over 850 domestic and international suppliers. However, Nature's Best is the company's primary supplier, accounting for approximately 23% of its total purchases in fiscal 2014. United Natural Foods (UNFI) is also another important supplier, which accounted for another 4% of the total purchases in fiscal 2014. Although Sprouts purchases from a large number of suppliers, thus, it is still dependent on these suppliers for a large part of their purchases.
Article continues below advertisement
Threat of substitutes and new entrants
The main substitute for an organic food product would be the low-priced regular grocery items. Customers, in general, have become health conscious in recent years, and there has been an increasing shift toward organic and natural food products rather than away from it.
Since the demand for organic food items has increased, new entrants have increased as well. These entrants are not just small grocery retailers but also bigger companies such as Kroger (KR) and Costco (COST). In general, there are not many barriers to entry in the organic grocery space, and small players can enter easily because of relatively low capital requirements.
ETF exposures of Sprouts and peers