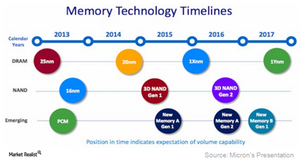 Micron's Technology Roadmap for 2016 and 2017
Technology guidance
Earlier in the series, we saw that Micron's (MU) technology transition will slow down the output and revenue in the short term. However, it will position the company to meet the future needs of advanced memory products. Let's look at the company's technology guidance for fiscal 2016 and 2017.
Micron is on track to transition to advanced technology.
By fiscal 3Q16, more than 50% of the company's DRAM (dynamic random-access memory) output will be produced on 20nm.
By the end of calendar 2016, most of the company's NAND (negative AND) output will be 3D NAND.
By the end of fiscal 2016, the company aims to start the production of 1X DRAM and GEN 2 3D NAND technologies. It expects production to increase in fiscal 2017.
The 3DXPoint technology, developed in conjunction with Intel (INTC), is currently in an enablement mode. The company expects the technology to start earning revenue in 2017 or 2018. Hewlett-Packard (HPQ) and SanDisk (SNDK) also developed Storage Class Memory technology that's believed to compete with 3D XPoint.
Article continues below advertisement
Benefits from 20nm ramp-up delayed
At the fiscal 1Q16 earnings call, an analyst raised a question about the fall in the revenue estimate despite the 20nm ramp-up. Micron's president, Mark Adams, explained that 20nm won't deliver higher revenue immediately. Several new products need to be qualified by customers before they're produced in volume.
The company is on-track to qualify new technologies, including 20nm DDR4 (double data rate fourth generation), low-power DDR4, and 3D NAND products. While this will result in higher manufacturing expenses in the short term, the long-term future looks bright.
Most of the 20nm production will come from Micron's Taiwanese (EWT) partner Intoera. Recently, Micron agreed to acquire the remaining 67% stake in Inotera in order to protect its IP (intellectual property) from Chinese competitors. However, there's more to it than just IP protection. In the next part of the series, we'll analyze the advantages and disadvantages of this acquisition.