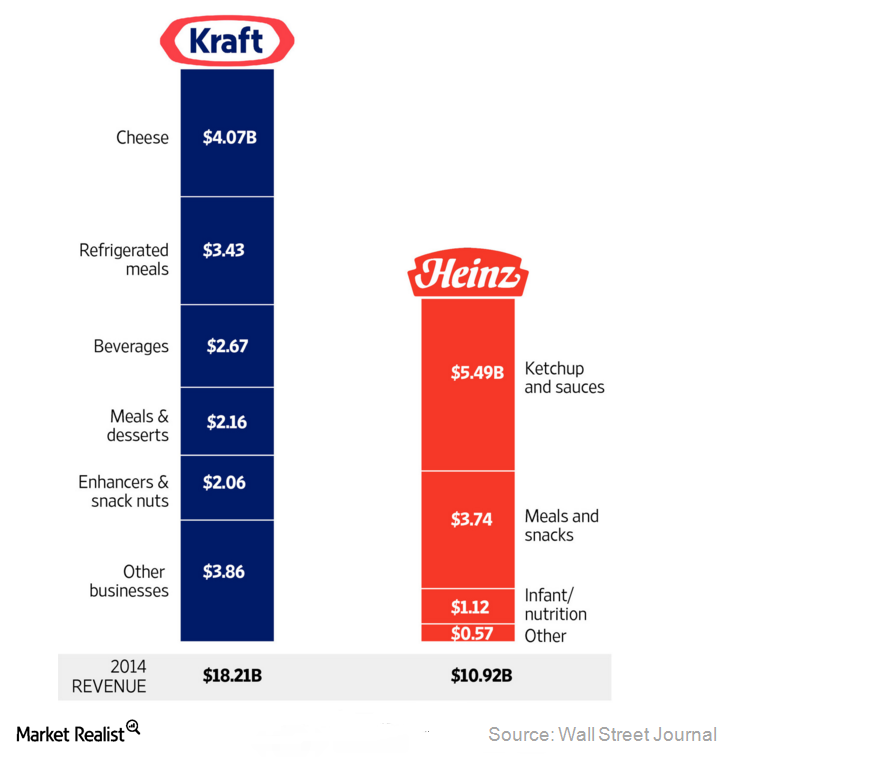 A Key Analysis of the Kraft-Heinz Merger
The Kraft-Heinz merger
In early 2015, Berkshire Hathaway (BRK-B) and 3G Capital teamed up the Kraft Foods Group and H. J. Heinz Company to create a new company, the Kraft Heinz Company (KHC). The merger was completed in July 2015. Berkshire Hathaway and 3G Capital paid a one-time cash dividend of $16.5 per share, amounting approximately $10 billion to shareholders of Kraft Foods, which meant that one share of Kraft Foods came to equal one share of Kraft Heinz.
Shareholders of Heinz, including Berkshire Hathaway and 3G Capital held 51% stake in Kraft Heinz. The remainder went to shareholders of Kraft Foods. Together, the Kraft Heinz Company had pro forma revenue of $29.1 billion in fiscal 2014.
Article continues below advertisement
Expected synergies between the two merged companies
In 2014, Heinz had a global platform, with 61% of the total sales coming from outside North America, or from the international market, in fiscal 2014, which ended December 31, 2014. Meanwhile, Kraft Foods generated 98% of its sales from North America in fiscal 2014, which ended for it on December 27, 2014. The two companies combined can thus sell Kraft's well-known brands on the international market, boosting the revenue growth.
Kraft Heinz expects the transaction to be accretive on EPS (earnings per share) by 2017. The management expects to realize annual cost savings of $1.5 billion by the end of 2017 mainly due to higher economies of scale in North America. It may help the Kraft Heinz Company to drive higher operating margins.
Credit ratings, debt, and comparable mergers
With the help of Kraft's much better credit rating, Heinz expected to refinance its high-yielding debt with low-yielding, investment-grade debt.
Meanwhile, M&A (mergers and acquisition) is a new trend in packaged food industry (XLP). Leading companies have been opting to merge in order to strategically grow the company's market share or profitability. To improve profitability, Tyson Foods (TSN) acquired meat processor Hillshire Brands in August 2014. In April 2014, Post Holdings (POST) acquired Michael Foods to increase its share in the protein market.
In this next part of this series, we'll take an instructive look at Kraft Heinz's product offerings.