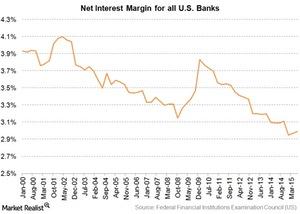 Liftoff Should Help Lift Your Returns from the Financial Sector
By Surbhi Jain

Updated
Rate hike to lift returns for the financial sector
The financial sector in the US is one of the first and foremost to benefit from the Fed's rate hike. The rate increase helps banks increase their net interest margins, their prime profit driver. As the Fed tightens further, banks should see their margins rise, which would benefit those invested in ETFs such as the Financial Select Sector SPDR ETF (XLF).
Article continues below advertisement
M&A and buybacks have benefited the financial sector
With interest rates at ground level, until the recent liftoff, banks and financial institutions have witnessed increased loan disbursements compounded by the merger and acquisition boom and the buyback spree. With cheap money available, US companies' borrowing rate has surpassed their earnings rate.
Companies have been using low cost capital to fund their buybacks and acquisition sprees. Firms like Apple (AAPL), Prudential Financial (PRU), and IBM (IBM) have been the forerunners of the share buyback race while Salesforce (CRM), Dow Chemical (DOW), and DuPont (DD) are a few examples of companies that are engaged in an acquisition deal. This spree is expected to continue as we move into 2016.
2016 tailwinds for the financial sector
Therefore in 2016, the financial sector (IYF) (VFH) stands to benefit from:
Increased corporate demand for funds on the back of the M&A spree.
Increased funds requirements to finance share buybacks. Companies may need to boost EPS, as 2016 projections have really dampened the earnings outlook for many corporations in the US.
Increased margins on account of the rate liftoff should promote increased lending activity, advisory fees, and interest income, thereby contributing to the top and bottom lines of financial institutions.
As the financial sector becomes more and more attractive, increased trading in the sector's capital market instruments should contribute to increased commissions arising from the sector.
The financial sector is trading at attractive multiples. Its PE (price-to-equity) and PBV (price-to-book value) valuations are lower compared to the broader market. The XLF is trading at a PE of 14.3 versus the broader market SPY at 18.6. XLF's PBV of 1.4 is also low compared to the SPY at 2.4.