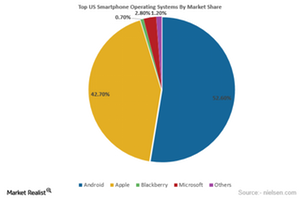 Google's Android Operating System Dominates the Smartphone Market
Android dominates the market
The majority of Apple's revenues come from the iPhone. This has been falling over a period as the majority of the smartphone market is driven by Google's Android operating system. At the beginning of 2015, Apple's market share was hovering around $109.3 billion with a market cap of $775 billion. Google was worth around $366 billion.
In December 2015, Apple's stocks fell through the month with small ups and downs. At the beginning December, the stock stood at $118.3, showing a fall of 8.5%. It later closed at $108.0 on December 24. Investors are feeling insecure given the falling iPhone sales that drove the price down from its pick level. Meanwhile, smartphones running on Android are spreading around the world.
Article continues below advertisement
Google estimates
Apple's current market value is $605 billion, whereas, Google is valued at $527 billion. The gap between the market cap of these two firms narrowed to $80 billion over the period. Google needs to rise by 15% to surpass Apple's current market cap, assuming that Apple's price remains constant. If Google continues to grow at the same pace, then it might be worth around $660 billion, compared to $635 billion for Apple.
During 2015, Google gained momentum and showed a rise of 43% YoY (year-over-year) compared to Apple's shares that showed falls of 2%. Google is generating its revenue primarily from its search business, where 51% is covered by mobile devices, as well as YouTube videos.
Wall Street estimates that Google's EPS (earnings per share) will show an average rise of 17% YoY over the next few years compared with a projected annual growth rate of 12%.
The iShares US Technology ETF (IYW) is a portfolio of 150 stocks whose top four stocks are Apple (AAPL), Microsoft (MSFT), Facebook (FB) and Alphabet (GOOG). They constitute 18.0%, 11.6%, 6.7%, and 6.0%, of the ETF, respectively.