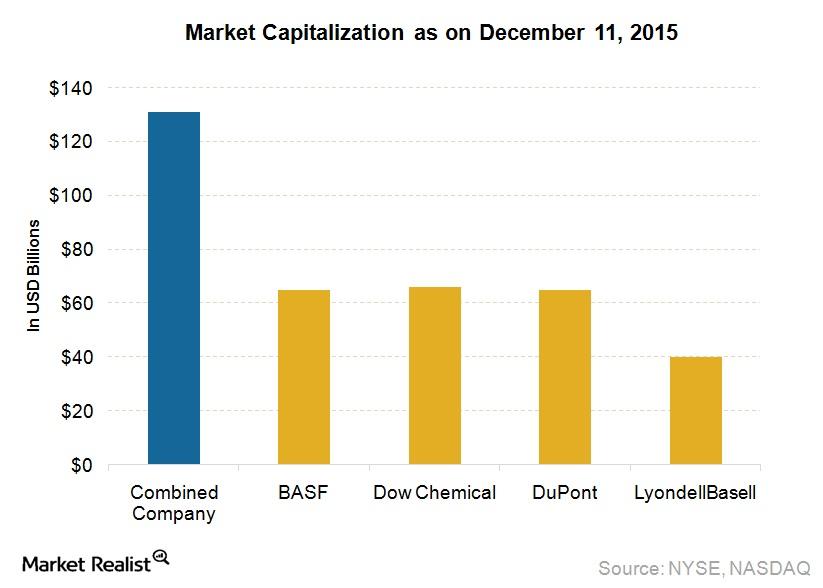 Analyzing the US Chemical Industry's Biggest Merger
Dow Chemical and DuPont merger
Dow Chemical (DOW) and DuPont (DD) are the world's leading chemical companies. They announced that they will merge to form the world's largest chemical company by market capitalization. It will be an all-stock equal merger. It's expected to close in the next 18–24 months. The newly merged company will be "DowDuPont."
The companies announced the merger news on December 11, 2015. They discussed the merger through a conference call with analysts. According to management, the logic behind the merger is to achieve a leadership position in each product segment. With a focused approach, it plans to increase the revenue growth by leveraging its vast client base and geographical reach. It plans to improve the productivity and margins through significant cost synergy. The merged company's market capitalization was ~$130 billion as of December 11, 2015. Initially, the merger news came around three days ago when the Wall Street Journal published this news. Investors welcomed the deal. Dow and DuPont's stock rose 12% the day after the merger news on December 9, 2015.
Article continues below advertisement
Important deal terms
DuPont's shareholders will receive 1.3 shares of DowDuPont for every DuPont share while Dow's shareholder will get one share of DowDuPont for each Dow share.
DowDuPont will be divided into three independent publicly traded companies on the basis of its product portfolio—agricultural, materials and sciences, and specialty products.
Dow's current chairman, Andrew N. Liveris, will be the chairman. DuPont's Edward D. Breen will be DowDuPont's CEO.
DowDuPont will have 16 directors. It will have eight directors each from Dow and DuPont.
DowDuPont will set up an advisory committee for each separate entity—agriculture, material science, and specialty products.
This merger transaction is expected to close in the second half of 2016. It's subject to shareholders and regulatory approvals.
Consolidation starts in the chemical industry
In August 2015, Monsanto (MON)—the leading agriculture chemical player—was about to acquire the European chemical player Syngenta AG (SYT) for $46 billion. However, the deal didn't materialize due to resistance from Syngenta. Over the last couple of years, Dow and DuPont have been under immense pressure from their shareholders to divest their lower margin businesses. They were pressured to increase their focus on higher margins and growing businesses like specialty products. Therefore, both DuPont and Dow have been looking for potential merger and acquisition deals—primarily for their agricultural chemicals businesses. Initially, DuPont was negotiating a deal for its agriculture segment with Syngenta and Dow Chemical. This unexpected merger news came later. Investors welcomed the deal. To learn more about the companies, read Market Realist's overview series on Dow Chemical and DuPont.
The Materials Select Sector SPDR ETF (XLB) largely tracks the performance of major chemical players. The iShares U.S. Basic Materials ETF (IYM) tracks the performance of US-based basic material companies including chemical. Dow Chemical and DuPont form 22% of XLB's total holdings.