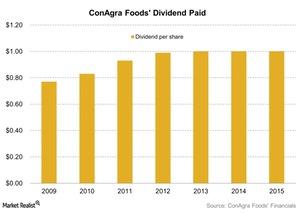 ConAgra Foods' Dividend, Outlook, and Expectations
Dividend paid by the company
Article continues below advertisement
Article continues below advertisement
Recent dividend, outlook for fiscal 2016
ConAgra Foods approved a dividend payment of $0.25 per share on December 15, 2015, just one week before the second quarter earnings release. It will be paid on March 1, 2016, to stockholders of record at the close of business on January 29, 2016.
The company also mentioned in its first quarter fiscal 2016 press release that it will offer more details on fiscal 2016 EPS (earnings per share) guidance once it's further along with the process of divesting the private label operations.
The outlook will be clearer once the company has finished determining associated selling, general, and administrative expense (or SG&A) reduction targets and finalizing investment levels for the remaining segments. The company expects the Consumer Foods and Commercial Foods segments to post modest comparable operating profit growth for the full fiscal year. As announced on June 30, 2015, the company's focus is on the divestiture of the private label operations, as well as on creating long-term value through several measures:
aggressively reducing costs with a better focus on SG&A
eliminating stranded costs once the sale of private label operations is complete
growing consumer brands (Consumer Foods segment) and Lamb Weston (within the Commercial Foods segment)
balancing capital allocation
ConAgra recently announced its further plan of action on its $300 million efficiency plan and its plan of separating the company into two independent public companies that we'll discuss in detail in our post-earnings series.
Article continues below advertisement
2Q16 expectations
With respect to fiscal 2Q16, the company expects diluted EPS, adjusted for items impacting comparability, to be approximately in line with amounts from a year ago. Despite strong fundamentals and expectations for continued margin expansion, comparable operating profits for the Consumer Foods segment in 2Q16 are expected to be negatively impacted by foreign exchange. The planned increase in marketing investment might also have an effect on the segment.
Earnings from the Commercial Foods segment are expected to post a rise in profitability year-over-year in 2Q16. The expected contribution from the private label operations, now in discontinued operations, is included in this quarter's guidance. The results from private label operations could benefit from the absence of depreciation and amortization.
Competitors
ConAgra Food's main competitors in the industry include General Mills (GIS), Pinnacle Foods (PF) and McCormick (MKC). They reported operating profits of $683 million, $97 million, and $139 million, respectively, for their last reported quarters. The Guggenheim S&P Equal Weight Consumer Staples ETF (RHS) and the PowerShares S&P 500 High Quality Portfolio (SPHQ) invest 2.7% and 1.2%, respectively, of their holdings in the MKC stock.