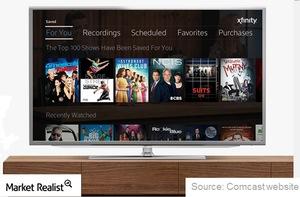 Why Is Comcast Offering Products Based on Market Segmentation?
Comcast's market segmentation
Comcast Corporation (CMCSA) is offering different products in its triple-play services (voice, video, and high-speed Internet) based on market segmentation. For example, Comcast's Internet Plus plan is for Millennials, or people in the 18–39 age group, who are not very interested in streaming videos but would like high-speed Internet.
Now let us look at the different products offered by Comcast for Millennials based on market segmentation.
Article continues below advertisement
Stream TV
Earlier this year, Comcast launched its live streaming video service, Stream TV, in Boston and Chicago. Comcast's Stream TV will be available only to Comcast's Xfinity Internet customers, and the plan's services available only in Boston and Chicago. Stream TV is priced at $15 per month.
However, Comcast's Stream TV service consumer will not be able to stream particular TV channels or access Xfinity on Demand programs when the user is not at home. It is because, for some content on Stream, Comcast's content providers have not given the company the right to stream their programs when users are away from home.
Another reason could also be that Stream TV is a streaming service that is viewed over Comcast's Xfinity Internet—Comcast's video, high-speed Internet, and voice service—and not over the Internet, like Netflix (NFLX).
Comcast has also stated that, as a result, "Stream TV data usage will not be counted towards your Xfinity Internet monthly data usage."
Comcast's Stream TV offers live sports, allows recording of a user's favourite TV shows and live sports events and also includes HBO (TWX). Stream TV seems to be targeted toward the Millennials, who tend to be heavy viewers of video at home.
What is Watchable?
Watchable is Comcast's free, ad-supported video service that offers curated semi-professional content from around 30 content partners including BuzzFeed, Vox, and Maker Studios.
Article continues below advertisement
Xfinity on Campus
Earlier this year, Comcast also launched Xfinity on Campus, "a cable TV service that lets students watch live TV across screens."
Sure, but why market segmentation?
By offering different products among Comcast's triple-play services, Comcast is catering to Millennials, who want a different type of content and who tend to be heavy video viewers. Offering different products means Comcast can upgrade an existing customer instead of losing the customer to its competitors. It also suggests that market segmentation could result in the reduction of involuntary churn for Comcast, which could drive up the company's ARPU (average revenue per user) for its cable communications business.
Comcast makes up 0.44% of the iShares S&P US Preferred Stock Index Fund (PFF). For investors interested in getting exposure to the communications sector, PFF has exposure of 0.79% to that sector. PFF also holds 0.42% of its total portfolio in T-Mobile (TMUS).
Now let's look at what Comcast plans to roll out in 2016.