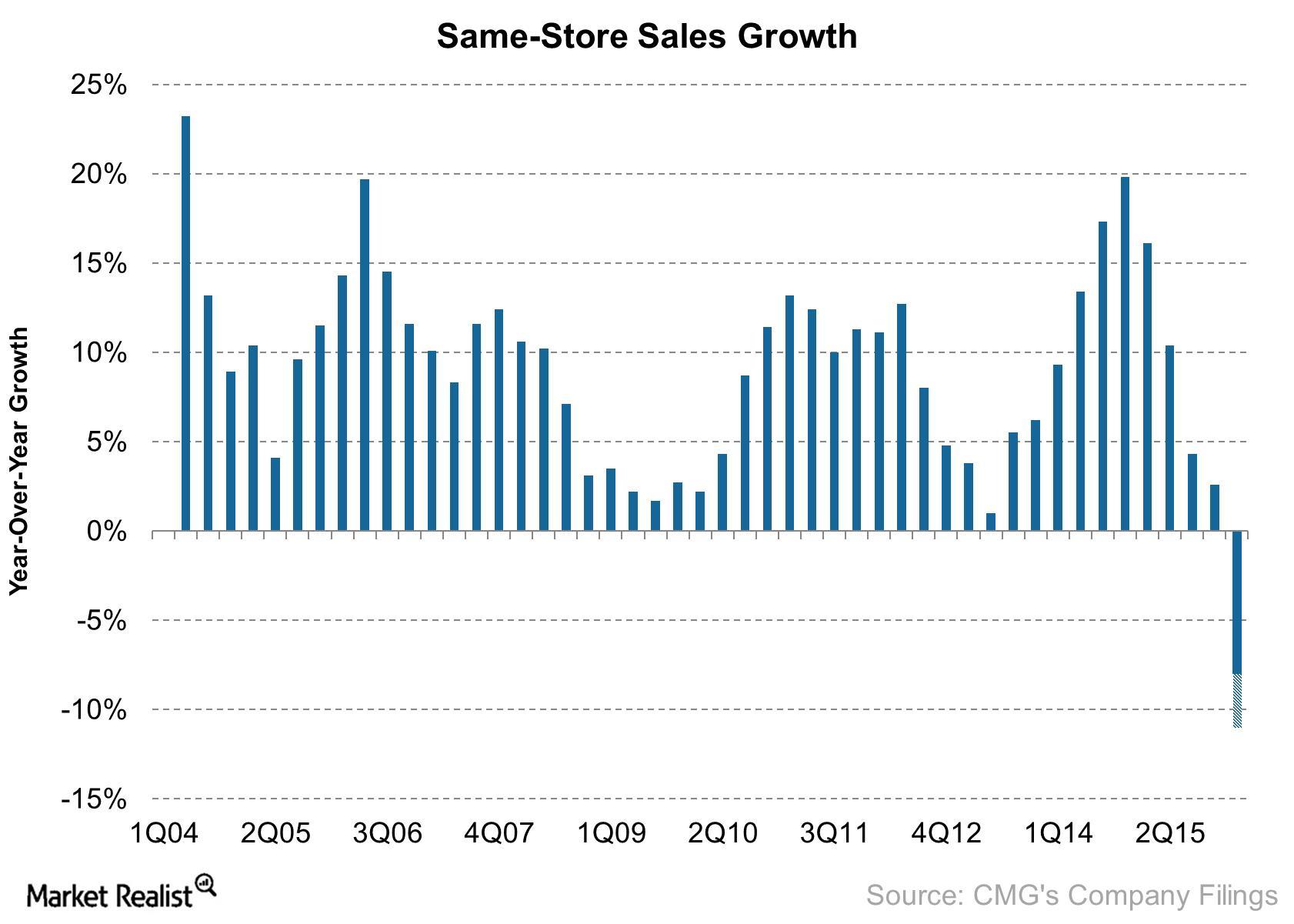 Chipotle May Report First Negative Same-Store Sales Growth in 4Q15
Impacting growth
Previously in this series, we discussed the health concerns stemming from October's E. coli outbreak and its impact on Chipotle Mexican Grill (CMG). Here, we will look at a measure that investors should consider following when investing in restaurant stocks: same-store sales growth.
Following public health issues such as an E. coli outbreak, which can cause serious illness or can be fatal, a restaurant company naturally faces a slowdown in customer visits until the outbreak is declared to be over.
Article continues below advertisement
Article continues below advertisement
Negative same-store sales growth
The severity of the negative impact of the E. coli outbreak on Chipotle is summed up by the above chart. The company's management expects its 4Q15 same-store sales growth to be in the range of -8% to -11%. This would be the first time in almost ten years that the company is expected to report negative same-store sales growth.
You may consider a more diversified portfolio such as the Consumer Discretionary Select Sector SPDR ETF (XLY). Currently, Chipotle Mexican Grill (CMG) forms 1% of XLY's total portfolio. XLY also holds 4% of McDonald's (MCD), 1.5% of Yum! Brands (YUM), and 3% of Starbucks (SBUX) as a percentage of its total portfolio.
How could Chipotle be impacted?
Unfortunately, concerns related to food safety do not dissipate in a single quarter, as a negative perception could linger. We saw this in the case of Yum! Brands (YUM), which experienced a food safety concern in China in 2012 and 2014.
Also, bear in mind that positive same-store sales growth does not mean that such an issue is over for a company. We will explore this further in the next part of this series.