Breaking down Stryker's MedSurg Segment
Stryker's MedSurg segment reported an increase of 10.8% in net sales in 2014, driven by increased demand in instruments, medical products, and acquisitions.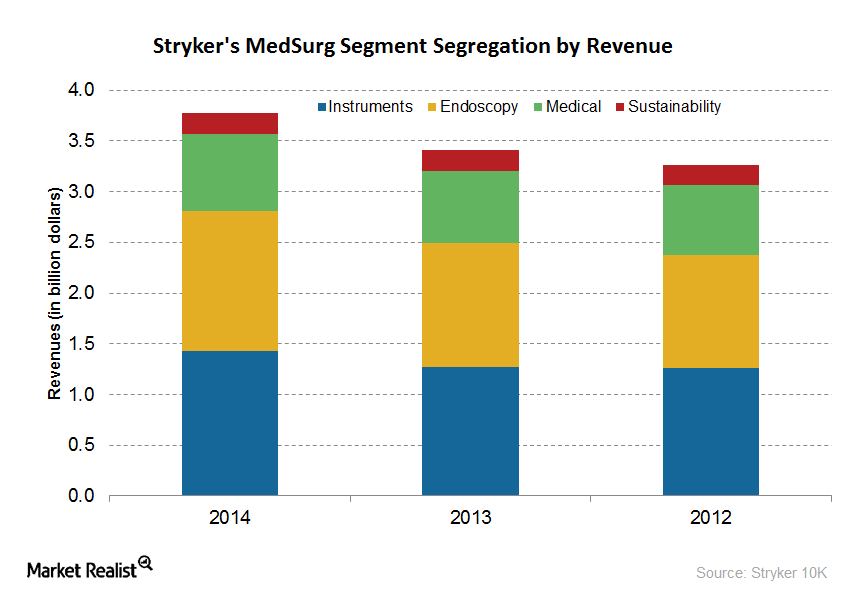 A brief overview of Stryker's MedSurg segment
Stryker Corporation's (SYK) MedSurg (medical and surgical) segment is the company's second-largest segment. It operates under the following four sub-segments:
Instruments
Endoscopy
Medical
Sustainability
As seen in the diagram above, Stryker's MedSurg segment reported an increase of 10.8% in net sales in 2014. The growth was driven primarily by an increased demand in instruments and medical products and a number of acquisitions. On the other hand, the segment's sustainability products business did not fare well.
Article continues below advertisement
Article continues below advertisement
Key growth drivers of Stryker's MedSurg segment
Stryker entered into a significant number of acquisitions over the last few years to broaden the product portfolio of MedSurg division and plans to further continue the growth of the business through acquisitions of companies with complementary products.
As a major player in reprocessing and re-manufacturing devices for single-use products, Stryker helps support the advancement of hospital sustainability initiatives. Thus, with the emergence of disruptive changes in medical device industry that favor high-quality low-cost products and services, this segment will continue to drive growth.
MedSurg segment's key products
Neptune Waste Management reported CAGR (compounded annual growth rate) of 31% in 2014 since its acquisition in 2000. This is a product designed to automatically collect liquids during surgical procedures using a closed suction system and dispose them at the end of the procedure instead of manually handling the liquid waste.
In 2012, Stryker had to recall two of the Neptune models that were not cleared for marketing by the US FDA (Food and Drug Administration). In 2013, the company relaunched the product with the aim to capture lost market share and expand the disposable base business. In 2014, Neptune, which forms part of Stryker's instrument division, demonstrated a remarkable growth of around 13% and continue to drive the MedSurg business.
Article continues below advertisement
Also, with the changing business models in the medical device industry, Stryker's products such as the SurgiCount Safety-sponge system, which prevents foreign objects to be retained in the patient's body after surgery, will drive long-term value by providing safety, improved outcomes, and economic value.
Major competitors of Stryker's MedSurg segment
In the MedSurg segment, Stryker faces stiff competition from Zimmer Biomet (ZBH), Medtronic (MDT), and Hill-Rom Holdings (HRC). One of the major ETFs that has exposure to Stryker is the iShares S&P 500 Growth ETF (IVW). Investors can invest in IVW and get diversified exposure to Stryker, which accounts for around 0.3% of IVW's total holdings.
Now let's look at Stryker's Neurotechnology and Spine segment.