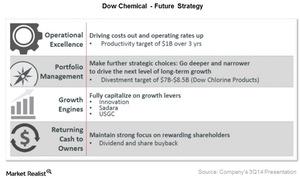 What Will Drive Dow Chemical's Future Growth?
By Steve Ariel

Updated
Change in business strategy
The Dow Chemical Company (DOW) has significantly changed its business model to improve its earnings profile and returns to shareholders. The company has shifted its focus towards ethylene and propylene value chain businesses to reduce earnings volatility. It has invested heavily in the US Gulf Coast and its Sadara Chemical Company joint venture over the last couple of years, and divested many non-core businesses and assets to optimize its product portfolio. Also, with the help of cash proceeds from these asset sales, the company has increased its focus on rewarding its shareholders.
Article continues below advertisement
Operational excellence
Dow has planned to reduce its product costs and improve its productivity through cost reductions and changing its product mix. The company is planning to save costs of $1 billion by 2017. Year-to-date, it has saved $208 million in costs. With these operational measures, in 3Q15, Dow reported its eighth consecutive quarter of volume growth year-over-year, excluding acquisitions and divestitures.
Portfolio management
Dow has started divesting its non-strategic and highly capital-intensive businesses. In 2014, Dow completed $2 billion in asset sales of non-strategic businesses. Going forward, the company plans to divest its chlorine and epoxy businesses by 2015. In 2016, Dow plans to reduce its stake in its Kuwait joint ventures. Overall, Dow aims to reach total divestiture targets of $7.0–$8.5 billion by 2016.
Article continues below advertisement
Growth engines
Dow has invested heavily in US Gulf Coast projects and Sadara Chemical Company joint venture. These investment projects are on track and are expected to add more than $3 billion to Dow's annual EBITDA (earnings before interest, tax, depreciation, and amortization) by 2017. We'll discuss these investments in the next article.
Returning cash to shareholders
Dow has aggressively increased its focus on rewarding its shareholders through dividend and share buybacks with the cash proceeds from asset sales and higher earnings. Dow returned around $6 billion to shareholders through dividends and share buybacks in 2014. Dow is expected to increase dividends in 4Q15. Overall, the company plans to return $10 billion of cash to shareholders through share repurchases.
Other major chemical players such as DuPont (DD), LyondellBasell Industries (LYB), Monsanto (MON), and Eastman Chemical Company (EMN) have also significantly increased cash returns to their shareholders. Monsanto, LyondellBasell Industries, and DuPont repurchased shares worth $7.0, $5.8, and $2.0 billion, respectively, in 2014.
The iShares US Basic Materials ETF (IYM) tracks the performance of US-based basic material companies, including chemical players. Together, Dow, DuPont, and LyondellBasell Industries form 28.7% of IYM's total holdings.