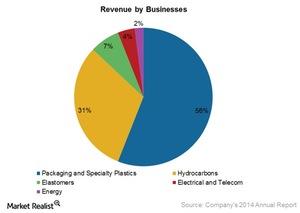 Understanding Dow's Largest Segment, Performance Plastics
By Steve Ariel

Updated
Segment overview
The Dow Chemical Company (DOW) is a global leader for performance plastics products. Its Performance Plastics segment contributed 39% and 46% to Dow's total revenue and EBITDA (earnings before interest, tax, depreciation, and amortization), respectively, in 2014. The segment's five major businesses are Dow Elastomers, Dow Electrical and Telecommunications, Dow Packaging and Specialty Plastics, Energy, and Hydrocarbons. The key user industries of this segment include building and construction, packaging, housewares, footwear, and infrastructure. With a combined contribution of ~87% to 2014's segment revenues, Dow Packaging and Specialty Plastics and Hydrocarbons were the two largest product groups in Dow's Performance Plastics segment. Within this segment, Dow has a cost advantage due to low feedstock costs driven by shale gas. Dow competes with Borealis, ExxonMobil (XOM), INEOS, LyondellBasell Industries (LYB), Mitsui & Co., Eastman Chemical Company (EMN), and Trinseo (TSE).
Article continues below advertisement
Performance Plastics segment overview
Dow Packaging and Specialty Plastics – Key products within this business include various grades of polyethylene and acrylics used in adhesives, food contact, hygiene and medical, and consumer packaging. With strong demand from emerging markets and increasing global operating rates, Dow expects robust volumes from this business.
Hydrocarbons – Dow is one of the largest suppliers of ethylene in the world. Its Hydrocarbons business manufactures cost-competitive monomers which are further integrated into the company's downstream business.
Dow Elastomers – Key products within this business include elastomers, polyolefin, plastomers, ethylene, propylene, and monomers. This segment serves the adhesives, footwear, housewares, infrastructure, sports, and transportation industries.
Dow Electrical and Telecommunications – This business provides wire and cable insulation, semi-conductive, and jacketing compound solutions for building and construction, telecommunications, and infrastructure.
Energy – Dow is one of the largest global producers of industrial energy. However, the majority of the output of this segment is consumed by Dow for its manufacturing operations. Dow also engages in merchant sales of energy.
The Materials Select Sector SPDR ETF (XLB) and the iShares US Basic Materials ETF (IYM) provide investors with diversified exposure to the chemical industry. The combined holdings of Dow and LyondellBasell Industries form 18% of XLB.