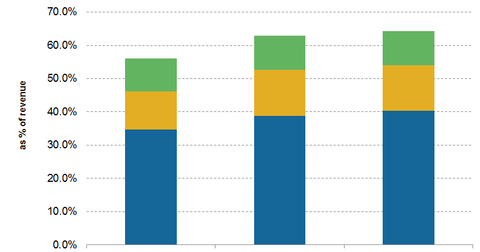 TripAdvisor's Key Spending: Customer Acquisition Costs and More
By Ally Schmidt

Updated
Customer acquisition costs
TripAdvisor (TRIP) is a travel site, which means its business depends on getting loads of traffic that it can later monetize. The United States is the largest market in the online sales segment, primarily controlled by the largest players, Expedia (EXPE) and The Priceline Group. (PCLN). TripAdvisor forms ~1.4% of the holdings in the S&P Equal Weight Consumer Discretionary ETF (RCD).
Naturally, then, its maximum expenditure relates to acquiring traffic. TRIP spends ~50% of its revenues on selling and marketing (S&M) costs, including customer acquisitions through SEO or and advertising—both on television and offline.
As we discussed earlier in this series, TripAdvisor has relied heavily on SEO to attract traffic. As a result, it spends a lot on SEO, including content development and adjusting to Google (GOOGL) algorithms.
S&M costs have increased from ~35% in 2012 to 40% in 2014 and 48% in 3Q15.
Article continues below advertisement
Technology and content costs
TRIP operates mainly through its website and mobile app. In this age of rapidly changing technology, the company needs to constantly invest in designing, developing, and maintaining its site and apps. This is the company's second-largest cost component. Technology spending has also increased from 10% in 2012 to ~14% in 2014.
Other fixed costs
Apart from these two major costs, the company also has some fixed expenditure it has to incur in order to run its business smoothly. This includes its cost of revenues (expenses relating directly to revenue generation), which form ~4% of revenue as well as general and admin expenses that form ~10% of revenue. TRIP also spends ~6.5% of its revenue on capital expenditures (maintenance capex), leading to depreciation and amortization that forms another 5% of its revenues.