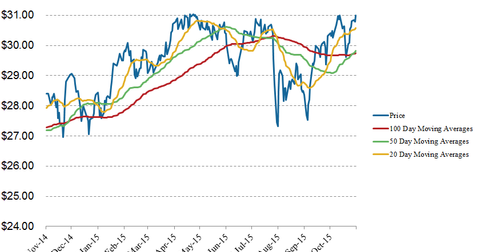 SKYY Had $137.34 Million in Fund Inflows in Trailing 12 Months
By Adam Rogers

Nov. 27 2015, Published 3:56 p.m. ET
Overview of SKYY
The First Trust ISE Cloud Computing Index ETF (SKYY) tracks the performance of companies involved in the cloud computing industry. This ETF holds a varied portfolio of pure play, non–pure play, and technology conglomerate cloud computing firms, and it weights each type of company equally within its category.
SKYY tracks the performance of 37 publicly listed companies in the cloud computing sector. The market capitalization of the SKYY is $542.32 million. SKYY has an expense ratio of 0.60%, and its average daily volume of shares traded is $2.36 million. The price-to-earnings ratio of SKYY is 42.69x, and its price-to-book ratio and distribution yield stand at 4.18x and 0.30%, respectively.
The top five holdings of SKYY and their weights are:
Amazon (AMZN): 5.36%
Alphabet Inc (GOOG): 5.01%
Equinix: 4.27%
Facebook Inc. Class A Shares (FB): 4.64%
Juniper Networks (JNPR): 4.25%
These top five holdings comprise over 20% of the total portfolio. Amazon (AMZN) comprises 11.07% of the First Trust Dow Jones Internet Index Fund ETF (FDN).
Article continues below advertisement
Fund flows in SKYY
In the trailing one month, net fund inflows for The First Trust ISE Cloud Computing Index ETF (SKYY) has been $24.43 million. In the trailing 12-month (or TTM) period, net fund inflows stood at $137.34 million. Fund inflows in the trailing one week were $4.60 million, and fund inflows in the trailing three-month period for SKYY were $33.06 million.
Since October 9, 2015, SKYY has consistently traded above its moving averages. Since then, the net fund inflows in the ETF have been $22.93 million. SKYY generated investor returns of 10.08% in the trailing 12-month period and 2.21% in the trailing one-month period. In comparison, it generated 18.17% returns in the trailing three-year period and 9.15% year-to-date.
Moving averages
On November 25, 2015, SKYY closed the trading day at $30.99. Based on this figure, let's see how the stock performed in terms of its moving averages:
4% above its 100-day moving average of $29.75
4% above its 50-day moving average of $29.81
1% above its 20-day moving average of $30.57
Relative Strength Index
SKYY's 14-day RSI (relative strength index) is 60.83, which shows that the ETF is slightly overbought. Generally, if the RSI is above 70, it indicates the stock is overbought. An RSI figure below 30 suggests that a stock has been oversold.