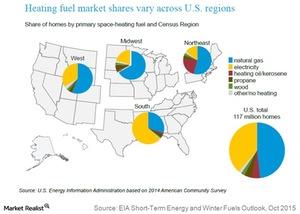 Propane: What's Impacting Demand in the United States?
By Rekha Khandelwal, CFA

Nov. 30 2015, Updated 8:06 a.m. ET
Propane: a liquefied petroleum gas
Propane is a liquefied petroleum gas found mixed with natural gas and oil. Propane and other liquefied gases such as ethane and butane are separated from natural gas at processing plants or from crude oil at refineries. Propane naturally occurs as a gas. It becomes a liquid at higher pressure or lower temperatures. Propane is transported and stored as a liquid because it's much more compact as a liquid than as a gas.
Article continues below advertisement
Uses of propane
Propane is the most common source of energy in rural areas where there's no access to natural gas. This makes it an important energy source, even though it accounts for less than 2% of the total US energy consumption.
Propane's residential uses include heating homes, cooking and refrigerating food, fueling gas fireplaces, heating water, and drying clothes.
In agriculture, propane is used to dry corn, control weeds, and power irrigation pumps and farm equipment.
Propane's industrial uses include running forklifts and other equipment. It's also used as a raw material in the petrochemical industry.
Factors impacting demand for propane
The following factors impact the demand for propane:
weather – Propane demand for home heating purpose is directly affected by the severity of the winter. In any given region, warmer-than-normal temperatures in the winter heating season (October to March) tend to result in reduced propane usage, while colder-than-normal temperatures tend to result in greater usage.
regional variation – Propane demand from the petrochemical industry is regional due to the high concentration of petrochemical plants in the Gulf Coast region. Residential demand is primarily in the Midwest and Northeast regions. Agricultural use of propane is primarily concentrated in the Midwest. The above graph shows the regional variation in the heating fuel market share.
Propane prices are influenced by crude oil and natural gas prices. This is because propane competes with these sources of energy. Seasonal variation in demand impacts propane inventory levels as well as prices. The distance of end-users from supply sources also impacts prices. We'll discuss the short-term outlook for propane consumption in the United States later in the series.
Propane demand and prices impact propane distribution MLPs such as Star Gas Partners (SGU), AmeriGas Partners (APU), Ferrellgas Partners (FGP), and Suburban Propane Partners (SPH). SPH forms ~3% of the Yorkville High Income MLP ETF (YMLP).