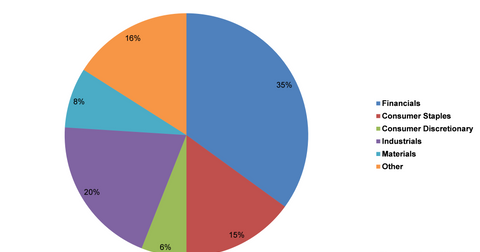 The Nile Pan Africa A Fund: Negative Returns for 5 Years
By Pete Raine

Nov. 20 2015, Updated 5:05 a.m. ET
The Nile Pan Africa A Fund
In this part of the series, we'll look at the Nile Pan Africa A Fund (NAFAX), which invests at least 80% of its portfolio in the stocks of Africa-based companies. The majority of the fund's exposure is in South Africa.
As of March 31, 2015, NAFAX had an allocation of 34% of its portfolio in South Africa. It had an allocation of 19% in Kenya, 7% in Nigeria, and 34% in SSA (Sub-Saharan Africa) countries. According to the World Bank, the SSA is a group of 48 African countries.
Article continues below advertisement
NAFAX's portfolio
The above graph shows the sectoral composition of NAFAX as of March 31, 2015. NAFAX invests in diverse sectors. According to its latest complete portfolio information as of March 31, 2015, the financial sector was its largest holding with a 35% exposure.
As of June 30, 2015, the fund's portfolio had a total of 46 securities. NAFAX's top individual holding is Consolidated Infrastructure Group with about 7.2% of the portfolio. The top ten holdings form about 58.6% of the portfolio.
NAFAX doesn't have any exchange-traded South African ADRs (American depositary receipts). Some South African ADRs are Sasol (SSL), AngloGold Ashanti (AU), and Gold Fields (GFI).
The above portfolio information is taken from NAFAX's filing with the SEC (U.S. Securities and Exchange Commission).
Returns so far
The above graph shows NAFAX's average annual returns as of November 6, 2015. The average annual return is the arithmetic mean of the gross returns over the specific number of years. In the last one year, the fund has given a return of -17.6%. Over a five-year period, the average annual return was also negative at -2.3%. The fund has given a return of 3.8% since its inception in April 2010.
In the next part, we'll take a look at another Africa-focused fund, the T. Rowe Price Africa & Middle East Fund (TRAMX).