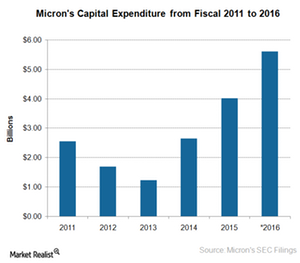 Micron's Growth Strategy in the Changing Memory Market
By Puja Tayal

Nov. 23 2015, Updated 11:00 a.m. ET
Micron responds to changing memory market
The memory market is one of the most concentrated semiconductor markets, recently gaining a lot of attention. China's (FXI) Tsinghua Unigroup and Intel (INTC) have announced plans to build memory chip plants, and Western Digital (WDC) is acquiring SanDisk (SNDK). All this has raised concerns about Micron Technology's (MU) growth strategy.
At the UBS Global Technology Conference on November 17, 2015, Micron's chief financial officer Ernie Maddock addressed these concerns and shared the company's plan to address the changes in the memory trend.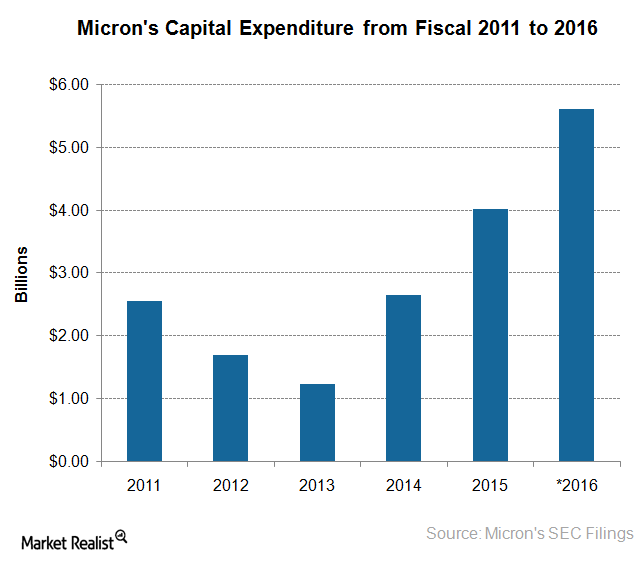 Article continues below advertisement
Supply-side trend
Three trends are governing the supply side of the memory market.
Memory technology is transitioning away from volatile memory, DRAM (dynamic random access memory), toward non-volatile flash memory, NAND (negative AND) and 3D NAND.
Players in the memory space are expanding NAND capacity based on the return they're deriving from the capital invested.
Migration toward new technology is slowing. With every reduction in the size of the node, the cost and complexity are increasing, slowing the pace of node transition. However, slower transition brings the benefit of longer technology cycles.
Micron's response to the changing trend
Micron is responding to the changing memory market by increasing investment in production technology.
The company will ramp up its DRAM capacity on the 20nm (nanometer) technology.
It will also ramp up its 3D NAND capacity in collaboration with Intel.
It's looking to differentiate its product by using advanced controllers.
Capital expenditure for fiscal 2016
In its fiscal 4Q15 earnings, Micron announced plans to spend $5.3–$5.8 billion in fiscal 2016 to support future growth.
The increase in capital expenditure is likely to impact the company's gross margin, but not to a significant extent. In fiscal 4Q15, the company's gross margin stood at 27%, down from 33% in fiscal 4Q14 due to increased spending on 20nm and 16nm TLC (triple-level cell) NAND flash memory.
In the next part of this series, we'll look at the industry's challenges and the company's growth plan in each of its segments.