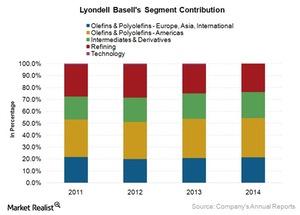 LyondellBasell: A Leading Manufacturer of Olefins and Polyolefins
By Steve Ariel

Updated
Company snapshot
LyondellBasell (LYB) is a leading producer of olefins and polyolefins. After Dow Chemical (DOW), LYB is the second largest company by revenue and EBITDA (earnings before interest, taxes, depreciation, and amortization) in the US. It is among the top five global chemical companies by revenue.
LyondellBasell primarily manufactures olefins, polyolefins, resins, and other chemicals used for various applications in the packaging, electronics, automotive parts, home furnishings, construction materials, and biofuels industries. The company also has a refinery in Houston that manufactures petroleum products. The company has 56 manufacturing facilities in 19 countries. The company's revenues have increased at a healthy compounded annual growth rate (or CAGR) of 4% from $38.9 billion in 2010 to $45.6 billion in 2014.
Article continues below advertisement
Overview of LYB's key chemical products and segments
Olefins: Olefins are also known as alkenes. They contain a large number of compounds of carbon and hydrogen. Major olefins are ethylene and propylene. LYB is the leading producer of olefins in the world. Ethylene and propylene are the primary feedstocks for most of the chemicals. Other major olefin producers are ExxonMobil (XOM), Formosa Plastics, Chevron Phillips (CVX), Sinopec (SHI), and Dow Chemical (DOW). The US's olefin players have a competitive edge over other global players due to the availability of low cost feedstock natural gas from shale gas.
Polyolefins: Polyolefins are part of polymers, and they are produced from olefins. Major polyolefins are polyethylene (or PE) and polypropylene (or PP). Lyondell Basell is ranked third among the world's polyolefin players. Major polyolefin products are high density polyethylene (or HDPE), low density polyethylene (or LDPE), and linear low density polyethylene (or LLDPE).
Intermediates and Derivatives (or I&D): LYB's I&D segment primarily manufactures propylene oxide and its co-products and derivatives, ethylene oxide and its derivatives, and oxyfuels. Lyondell Basell is the second largest global manufacturer of propylene oxide and the world's leading player in oxyfuels with 10% of the total global oxyfuels' production capacity.
Refining: LYB has a refinery in Houston with a crude oil processing capacity of around 268,000 barrels per day (or bpd). The Houston refinery processes heavy high-sulfur crude oil, sourced from the US Gulf Coast. Major refining products are gasoline and components, diesel, jet fuel, and lube oil.
Technology: LYB's technology segment develops and licenses chemical, polyolefin, and other process technologies. It also develops and manufactures polyolefin catalysts and provides additional services such as engineering to external customers.
What we'll cover in this series
In this series, we'll discuss each of LYB's business segments in detail, geographical exposure, capacity expansion, future strategy, financial liquidity, financial leverage, shareholder reward, and share performance.
The Materials Select Sector SPDR (XLB) ETF is one of the largest chemical ETFs in the world. It largely tracks the performance of major chemical players. Another chemical ETF, the iShares U.S. Basic Materials ETF (IYM) also tracks the performance of the US-based basic material companies including chemicals. LYB forms 6.6% of XLB's total holdings.