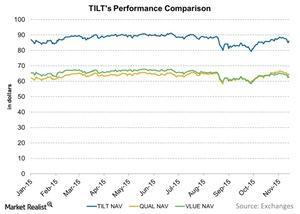 Investing in TILT: What You Should Know about Its Structure
By Ivan Kading

Dec. 4 2020, Updated 10:53 a.m. ET
Tilted toward small caps and value
The FlexShares Morningstar U.S. Market Factor Tilt Index Fund (TILT) seeks to track the investment results of the Morningstar US Market Factor Tilt Index. The fund tweaks the original Morningstar U.S. Index by tilting (giving more weight in) its portfolio to small-cap stocks and value stocks using a multi-factor modeling approach.
The ETF aims to provide long-term capital appreciation for investors. It seeks to provide investors with a total stock market option that helps meet their longer-term capital appreciation needs. TILT is a fundamentally based smart beta fund.
Article continues below advertisement
Underperformer
The above comparison of TILT's market performance with other fundamentally based index ETFs such as the iShares MSCI USA Quality Factor ETF (QUAL) and the iShares MSCI USA Value Factor ETF (VLUE) shows TILT's poor performance in the market.
QUAL and VLUE both have a stock selection methodology based on multiple fundamental measures. There's a temporary recessionary phase in the market, which has caused a crash, affecting the performance of these smart beta funds. TILT is the most affected fund since it focuses on highly risky small-cap stocks, which tend to fall the most is this kind of scenario.
Small-cap stocks are highly risky
TILT's top holdings include stocks such as Apple (AAPL), General Electric (GE), Microsoft (MSFT), J.P. Morgan Chase (JPM), and Chevron (CVX). Small-cap stocks have the highest growth value but are more vulnerable to a crash. In addition to tracking the performance of the underlying index, TILT also seeks to minimize portfolio turnover and tax inefficiencies.
We present TILT's current market performance in detail in the next part of this series.