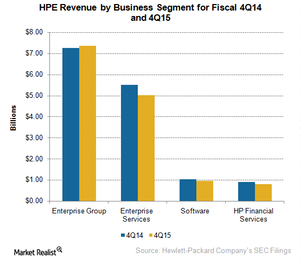 Hewlett Packard Enterprise's Revenues Continue to Fall
Hewlett Packard Enterprise
In the previous part of the series, we saw that the combined HP company missed analysts' estimates. Let's look now at the performance of Hewlett Packard Enterprise (HPE) in fiscal 4Q15.
During the quarter, HPE revenue fell 4% YoY (year-over-year) to $14.1 billion, above analysts' expectation of $13.5 billion. HPE focuses on servers, storage, the cloud, networking, services, and software. Hardware sales continued to grow during the quarter, while all other segments reported falling revenues.
Article continues below advertisement
Article continues below advertisement
Enterprise Hardware Group
In fiscal 4Q15, Enterprise Hardware Group revenue rose 2% YoY to $7.4 billion, and operating profit fell 4% YoY to $1.0 billion.
Networking sales grew 35% YoY driven by the acquisition of enterprise mobile networking solutions provider Aruba in March 2015. The acquisition brought opportunities to cross-sell across wireless and data center switching.
Server sales grew 5% YoY driven by increased demand from Tier 1 customers and an upswing in the server market due to growth in the cloud and big data.
In the storage space, HP is the second largest player after EMC (EMC). Sales of its 3PAR All-Flash portfolio has grown triple digits in 4Q15. However, overall storage sales fell 7% YoY during the quarter.
Even business critical system and technology services revenue fell 8% YoY and 11% YoY, respectively, during fiscal 4Q15.
Enterprise Services
In fiscal 4Q15, Enterprise Services revenue fell 9% YoY to $5.0 billion, and operating profit rose 9% YoY to $412 million, the highest since 2011. The revenue from infrastructure technology outsourcing fell 11% YoY, and revenue from application and business services fell 5% YoY. The major cause of the decline was the shift in the IT landscape toward the cloud.
Succumbing to competition from public cloud giants such as Amazon Web Services (AMZN), HPE is closing its Helion Public Cloud business on January 31, 2016, but will continue to operate in the private cloud space. It will now offer software services to help enterprises integrate with public cloud companies.
In the fiscal 4Q15 earnings call, HPE chief executive officer Meg Whitman revealed that the company is entering into a partnership with Microsoft (MSFT) Azure to "serve as a preferred provider of Microsoft infrastructure and services for its hybrid cloud offerings."
In the next part of the series, we'll look at the performance of the software and financial services segment in fiscal 4Q15. The iShares Russell 1000 Value ETF (IWD) has a 0.26% exposure in HPE.