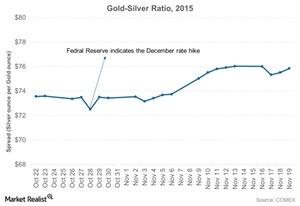 Where Is the Gold-Silver Ratio Headed to?
By Meera Shawn

Nov. 23 2015, Published 11:47 a.m. ET
Gold-silver ratio gains
Gold prices fell to a five-and-a-half-year low on Wednesday, November 18, as investors looked ahead to minutes from the Federal Reserve's latest policy meeting for further clues on the December rate hike. Silver prices have also been plunging alongside gold. The fall in prices for both precious metals has caused the gold-silver ratio—that calculates how much an ounce of gold equals in silver ounces—to stand at 75.84. This means that it requires almost 75.8 ounces of silver to buy a single ounce of gold. Below is a chart of the price movements in the gold-silver ratio.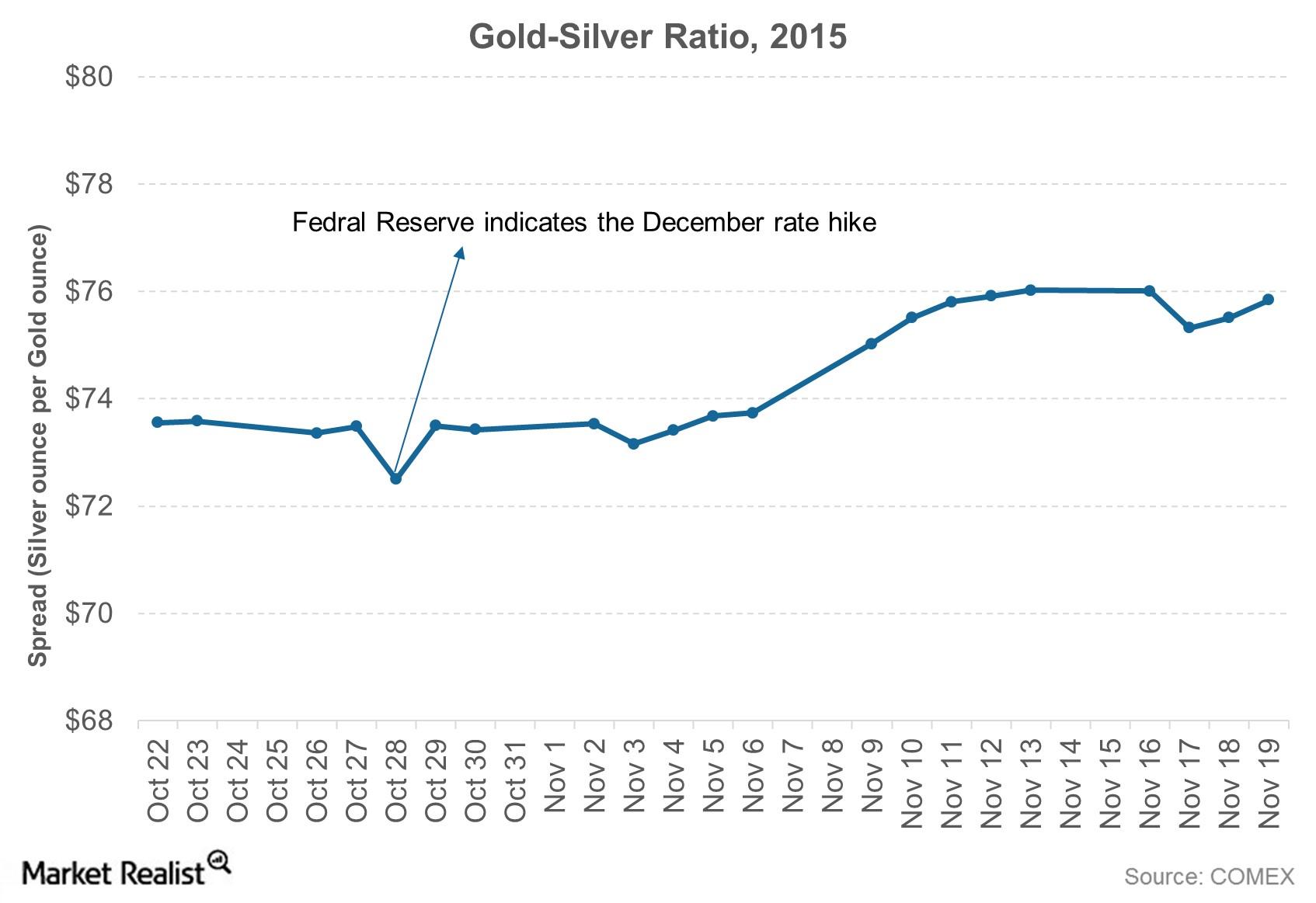 Article continues below advertisement
After the hawkish stance by the Federal Reserve, both gold and silver started falling. However, silver has been falling at a greater pace. On a trailing-30-day basis, gold lost 7.9%, whereas silver lost 10.5%. Due to the comparatively higher losses in silver, the gold-silver spread or the gold-silver ratio has surged.
The gold-silver ratio fell seven out of the past ten trading days, and it's currently trading above the 100-day moving average price of $74.5. As the current implied volatility in gold and silver prices are both above the average 10-day volatility, the gold-silver ratio too ought to be more volatile.
Tracking ETFs and miners
Due to higher losses in the price of silver compared to gold, the ETFs backed by these precious metals have also followed a similar route. The iShares Silver Trust (SLV) fell 10.3%, more than the 8.2% fall in the iShares Gold Trust (IAU). Most of the mining companies, like Silver Wheaton (SLW), Franco-Nevada C(FNV), and Randgold Resources (GOLD), have seen their prices retreat on a trailing-30-day basis. However, other company-related factors also affect the prices of these stocks. Silver Wheaton, Franco-Nevada, and Randgold make up 14.7% of the VanEck Vectors Gold Miners ETF (GDX).