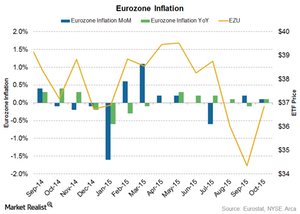 Eurozone Annual Inflation Remained Muted in October 2015
By Lara Sheldon

Updated
Eurozone annual inflation increased to 0.1% in October
Most of the European nations are struggling with low inflationary pressure. According to Eurostat, the Eurozone's annual inflation stood at 0.1% in October, compared to -0.1% in September 2015. With continuous low inflationary pressure, the iShares MSCI Eurozone ETF (EZU) and the Direxion Daily FTSE Europe Bull 3X ETF (EURL) have declined 2.2% and 8.2%, respectively, over the past month as of November 16. EZU and EURL have lost 4.9% and 22.2%, respectively, from a year ago.
Over the past year as of November 16, 2015, Sanofi (SNY), Siemens Aktiengesellschaft (SIEGY), and Banco Santander (SAN) fell 10.8%, 13.1%, and 37.4%, respectively, whereas Fiat Chrysler Automobiles (FCAU) has increased by 5.5%.
Article continues below advertisement
Energy prices continued to fall in October
The decline in inflation was mainly attributed to the fall in energy prices, which fell by 8.5% in October 2015. Fuel prices for transportation fell by 0.68%, heating oil fell by 0.22%, and gas fell by 0.09%.
Food inflation has increased annually by 1.6% in October, with the largest upward increase coming from vegetables by 0.14%, restaurants and cafés by 0.10%, and fruit by 0.07%. In October, service inflation rose by 1.3% on an annualized basis. However, falling energy prices have offset the increase in food inflation and services inflation. Core inflation—excluding the prices of energy, food, alcohol, and tobacco—was 1.1%, up from 0.9% in the previous two months.
Eurozone monthly inflation increased to 0.1% in October
Inflation in the Eurozone on a monthly basis rose 0.10% in October, compared to 0.2% in September 2015. The increase was mainly led by an increase in food inflation and non-energy industrial goods, which grew by 0.4% and 0.7%, respectively, in October. Energy prices saw a 0.5% decline, and services fell by 0.1% in October.
With the quantitative easing measures undertaken by the European Central Bank, the Eurozone economy is struggling to keep inflation positive and revive its economic growth.
Italy's economy is slowly expanding, and we'll take a look at Italy's foreign trade in the next article.