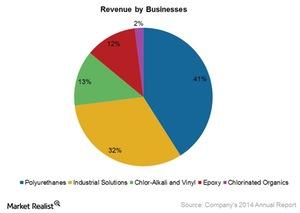 Dow's Performance Materials & Chemicals Segment: Growth Drivers
By Steve Ariel

Updated
Segment snapshot
The Dow Chemical Company's (DOW) Performance Materials & Chemicals segment is the company's second-largest segment. It contributed to 26% of Dow's revenue and to 23% of Dow's EBITDA (earnings before interest, tax, depreciation, and amortization) in 2014. The segment is largely driven by an integrated business model and technology-driven chemical solutions. The segment's five major businesses are are Chlor-Alkali and Vinyl, Chlorinated Organics, Epoxy, Industrial Solutions, and Polyurethanes. Industrials Solutions and Polyurethanes are the segment's key businesses, contributing 73% of revenue in 2014.
Article continues below advertisement
Business overview
Polyurethanes – Polyurethanes comprise of isocyanates, polyols, polyurethane systems, propylene oxide, and propylene glycol. Dow is a global leader for propylene oxide and propylene glycol. Dow is also one of the largest producers of polyether polyols and aromatic isocyanates, which are used in the industrial and energy sectors.
Industrial Solutions – Dow's Industrial Solutions business supports the world's major industrial manufacturers, primarily those of electronics, agricultural chemicals, heavy equipment, coatings, and detergents. Dow is one of the largest suppliers of purified ethylene oxide in the world. Around 80% of ethylene oxide production is used for performance materials and chemicals. Key end markets include electronics, coatings and inks, machinery, adhesives, and detergents.
Chlor-Alkali – This business comprises of chlorine and caustic products, principally consumed within Dow's Performance Materials & Chemicals and Crop Protection businesses. Dow also offers ethylene dichloride and vinyl chloride monomer, a key input for the production of polyvinyl chloride.
Divestiture of low-value businesses
Dow divested its lower-margin chlorine business, comprising of the US Gulf Coast's chlor-alkali and vinyl business and the global chlorinated organics and epoxy businesses. The company has shifted its focus towards the ethylene and propylene value chain businesses to improve its earnings profile.
The segment's growth is largely dependent on the growth of the key end user industries. Key end user industries' growth is driven by factors such as higher industry output and increased construction activity. In this segment, Dow, being the largest player, has a competitive advantage over other small players including Axiall (AXLL), Huntsman (HUN), and Olin (OLN).
Instead of picking up individual chemical stocks, investors can invest in chemical ETFs such as the Materials Select Sector SPDR ETF (XLB) and the iShares US Basic Materials ETF (IYM). Dow Chemical makes up the highest percentage holdings of both ETFs.