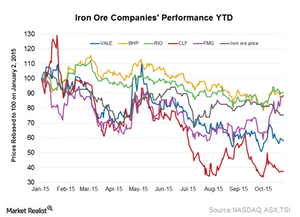 Cliffs Natural Resources: Outlook on the Seaborne Iron Ore Market
By Anuradha Garg

Updated
Seaborne iron ore situation
According to Cliffs Natural Resources' (CLF) chief executive officer, Lourenco Goncalves, the current situation in the seaborne iron ore market is the making of big Australian iron ore miners. He said their misguided focus on market share instead of price is giving a cheap avenue to Chinese (FXI) (MCHI) mills to overproduce steel. This is leading China to ship more steel into the world (ACWI) markets as its domestic economy slows. This is resulting in lower steel prices and reduced earnings for global steelmakers.
Article continues below advertisement
Rationality on supply side
Expanding on the mismatch between supply and demand in the seaborne market, Cliffs' management said that Vale (VALE) is already depicting rationality in terms of cutting high-cost production. This may be because is has a clear disadvantage in terms of freight costs compared with its Australian peers, BHP Billiton (BHP) (BBL) and Rio Tinto Group (RIO). Cliffs' management also thinks that BHP Billiton is slowly backing off from its previous bullish numbers regarding Chinese steel demand estimates. Though the estimate cut is very small, it's still in the right direction. They think that Rio Tinto is most "stubborn" of the lot.
Demand side
On the demand side, Goncalves commented that CISA (China Iron and Steel Association) is itself saying that consumption is going down and they need to reduce production. Baosteel's chairman has also commented that steel production should go down by 20%.
Concluding on the current situation, Goncalves said that they've decided to stay within US boundaries, the best market to be in. They're preparing themselves for the electric arc furnace markets. The management is also hopeful regarding the domestic US steel market as antidumping suits and countervailing suits arise.