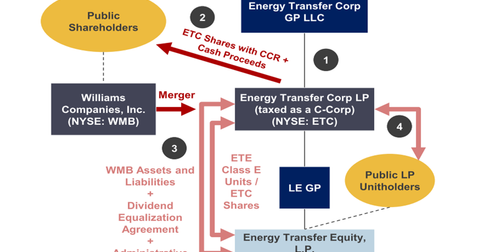 How Will Energy Transfer Corporation Trade?
By Kurt Gallon

Oct. 5 2015, Updated 8:08 a.m. ET
Energy Transfer Corporation
In this article, we'll talk about the Energy Transfer Equity (ETE)–Williams Companies (WMB) merger process. We'll see how ETC (Energy Transfer Corporation), the new public entity, will trade relative to ETE.
ETC would be taxed as a corporation for federal tax purposes, and holders of ETC shares would receive an IRS Form 1099 rather than a Schedule K-1.
Spectra Energy Partners (SEP), Enbridge Energy Partners (EEP), and Targa Resources Partners (NGLS) are among the midstream MLPs whose sponsors operate as C-corporations and are taxed as corporations for federal tax purposes. EEP constitutes 4.81% of the Global MLP ETF (MLPA).
Article continues below advertisement
Energy Transfer–Williams merger steps
As highlighted in the investor presentation, the Energy Transfer–Williams merger process includes four essential steps:
ETC would be formed as an affiliate of ETE.
Each WMB shareholder would be entitled to receive ETC's publicly traded shares and cash proceeds. We discussed this in the previous part.
ETC will transfer all the assets and liabilities of WMB to ETE. In exchange, ETE will issue class E shares equal to the shares issued in the ETC offering. The class E shares will entitle ETC shareholders to receive distributions equal to that of ETE unitholders until 2018.
ETE unitholders would have the option to exchange their units for ETC shares.
ETE–WMB Merger contingent consideration rights
Under ETE–WMB merger terms, each ETC share would be linked with one CCR (contingent consideration right) to ensure trade parity between ETC and ETE over the two-year measurement period. The measurement period begins 30 days after the closing of the transaction.
If ETC shares trade at a discount (the shortfall amount) to ETE, then ETE will settle the CCR through cash or the issuance of additional ETC shares in proportion to the shortfall amount. In the latter case, ETE will have to issue additional class E shares to ETC.
If ETC trades at a premium (the excess amount) to ETE during the measurement period, ETE will be entitled to cancel class E shares proportionate to the excess amount. However, CCRs would be canceled only if ETC trades at a premium to ETE for 20 consecutive trading sessions during the measurement period and there is no shortfall amount outstanding at the end of the 20-day trading period.