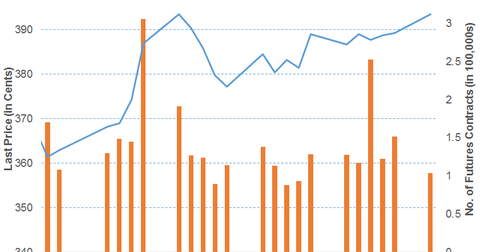 Corn Prices Rally in Week Ended October 4: Will It Continue?
By Sean Brown

Updated
Corn prices rise
December CBOT (Chicago Board of Trade) corn futures prices rose 1.09% and settled at $3.93 per bushel on October 5, 2015. Corn futures prices rose due to lower-than-anticipated harvest progress in the USDA's (U.S. Department of Agriculture) crop progress report. The Teucrium Corn ETF (CORN) fell 0.96% on October 5.
The USDA's crop progress report for the week ended October 4, 2015, released on October 5, was less than analysts' estimates. Harvest activity progress during the week reached 27% completion against analysts' estimate of 30%. Lower-than-anticipated harvest progress resulted in a decline in supply, and prices increased on October 5.
The week ended October 4 was the most progressive in terms of harvest activity, which rose by 9%. It was the highest increase for the current harvesting season. However, harvest progress for the period trailed the previous five years' average harvest progress by 5%.
Article continues below advertisement
There's been remarkable corn harvest progress in Illinois and Kansas at 20%, although the leading states in harvest completion are North Carolina, Tennessee, Kentucky, and Missouri, completing more than two-thirds of their corn harvest. Harvest progress in Colorado, Iowa, Michigan, Minnesota, North Dakota, and Wisconsin has been below 15%. For these states, harvest activity may continue to be affected by significant weather changes.
The quality of the crop increased 1% from good to excellent last week. The USDA's crop progress report was static for the good-to-excellent category at 68%, which was 6% lower than the previous year. A delayed harvest always has a weather contingency, with crop deterioration in unfavorable weather conditions.
Impact on business
For food companies such as Tyson Foods (TSN), ConAgra Foods (CAG), Archer-Daniels Midland (ADM), and Bunge (BG), a rise in corn prices normally results in a fall in stock prices due to the increase in their input costs. Despite the rise in corn futures prices, these stocks rose on October 5. The Power Shares DB Agriculture ETF (DBA), which has an interest in these stocks, rose 0.43% that day.