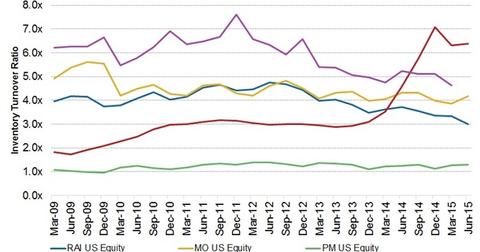 How Reynolds American Keeps Improving Its Product Distribution
By Penny Morgan

Oct. 2 2015, Updated 10:09 a.m. ET
Distribution and raw material procurement
Reynolds American (RAI) and its subsidiaries distribute cigarettes through a combination of direct wholesale deliveries from a local distribution center and many public warehouses located throughout the United States. In comparison, peers Philip Morris International (PM), British American Tobacco (BTI) and, Japan Tobacco (JAPAF) distribute their products in many diverse geographies.
By contrast, R. J. Reynolds Tobacco's and American Snuff's procurement of raw material (burley, flue-cured leaf, air-cured and fire-cured leaf tobaccos, and Oriental tobaccos of various grades and styles) is directly through contracts with tobacco growers. Santa Fe contracts directly with independent farmers for earth-friendly practices, which includes environmentally friendly cultivation practices.
Article continues below advertisement
Inventory-turnover versus peers
Reynolds American's inventory turnover metric for 2Q15 was low at ~3.0x, compared to 3.7x in 2Q14. The decrease was primarily due to the declining shipment volumes of cigarettes. Peers Philip Morris International, Altria Group (MO), and Vector Group Ltd. (VGR) had inventory turnover ratios of 1.3x, 4.1x, and 6.4x, respectively.
McLane Company is R. J. Reynolds Tobacco's, American Snuff's, and Santa Fe's largest customer. Sales to McLane constituted ~31% of Reynolds American's consolidated net revenue for 2014. Another important distributor of Reynolds American's subsidiaries' products is Core-Mark International, which represented ~11% of its parent company's total sales in 2014. McLane and Core-Mark are American supply chain services companies, providing supply solutions to the convenience retail industry.
Expansion of distribution
Reynolds American's subsidiaries American Snuff and R. J. Reynolds Vapor are expanding distribution of their Grizzly and Vuse brands, respectively. American Snuff recently completed a capacity upgrade and an expansion of its newly acquired sites in Memphis, Tennessee, and Clarksville, Tennessee. It also expanded the distribution of Grizzly Wide Cut Wintergreen nationwide to offer consumers a long-lasting wintergreen flavor.
In addition, RJR Vapor is planning national expansion and distribution of Vuse to retail outlets in 2015.
RAI has exposure in the PowerShares S&P 500 High Dividend Portfolio ETF (SPHD), with 1.9% of the total weight of the portfolio as of September 24, 2015.