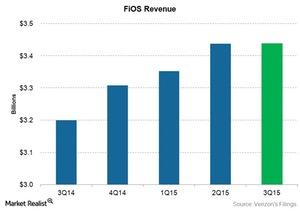 Revenue Growth for Verizon's FiOS Network Slowed Down in 3Q15
By Ray Sheffer

Updated
FiOS revenue grows at a slower pace in 3Q15
In the last part of this series, we mentioned that Verizon's (VZ) consumer wireline revenues grew YoY (year-over-year) in 3Q15, although at a slower pace. In 3Q15, Verizon's FiOS revenue growth YoY also slowed down. FiOS is Verizon's fiber-optic network that provides fiber-based voice, data, and pay-TV services. It's similar to AT&T's (T) U-verse and a comparable offering to high-speed networks provided by cable companies, including Comcast (CMCSA) and Time Warner Cable (TWC). Verizon offers FiOS to both consumers and businesses.
As we can see in the above chart, FiOS revenues grew ~7.5% YoY to reach ~$3.4 billion in 3Q15. This growth is lower than the 10% YoY increase in FiOS revenue during 2Q15.
FiOS derives most of its revenue from the consumer wireline segment. During 3Q15, ~79% of consumer wireline revenue was from the FiOS service.
According to Verizon, sluggish subscriber growth in the pay-TV segment was one factor that negatively affected FiOS growth.
Article continues below advertisement
FiOS customer growth in 3Q15
In terms of net additions of customers, FiOS added ~42,000 video subscribers and ~114,000 Internet subscribers during 3Q15. However, growth in FiOS video and Internet subscribers continued to slow down during the quarter.
In 3Q15, FiOS Internet subscribers grew ~7.2% YoY to ~6.9 million. FiOS video subscribers increased ~5% YoY to ~5.8 million. In 2Q15, FiOS Internet and video subscribers increased ~8.1% and ~6.4%, respectively.
Instead of taking a direct exposure to Verizon stock, you can take a diversified exposure by investing in the SPDR Dow Jones Industrial Average ETF (DIA). DIA held ~1.9% in Verizon at the end of August 2015.