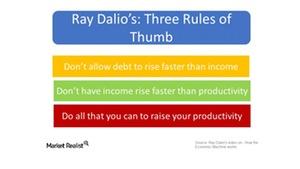 Ray Dalio's 3 Rules of Thumb and the Road Ahead for China
By Lynn Noah

Oct. 13 2015, Updated 11:19 a.m. ET
Ray Dalio's three rules of thumb
Ray Dalio, the founder of Bridgewater Associates, provided the following three rules of thumb:
Don't allow debt to rise faster than income because that will eventually crush you.
Don't have income rise faster than productivity because eventually you won't be competitive.
Do all that you can to raise your productivity because it's what that matters most in the long run.
Article continues below advertisement
Road ahead for China
Earlier in this series, we saw where China stands in terms of labor productivity, interest rates, leverage—including short-term and long-term external debt, domestic debt, and deleverage. The truth is that China's slowing because of the rising debt burden. This can be fixed if the Chinese government and the Central Bank implement reforms to reduce the debt burden.
With the growing asset bubble in the stock market, which is expected when financial markets first develop, the Chinese regulatory authority needs to keep a close eye on margin financing. It needs to curb illicit trading and other malpractices to make the trading system more transparent. In 2008, we saw how questionable lending practices can result in realized systemic risk. In the past, Chinese officials have been hesitant to introduce monetary easing to rein in highly speculative credit practices like shadow banking.
Even Lu Lei, director of the People's Bank of China's research bureau, stated that the Central Bank should raise its level of transparency. An artificially inflated stock market can't mask that for long.
China needs more reforms
In order to support the slowing economy, China will need liberalization measures like opening up financial markets to foreign players and more monetary policy easing in the form of more rate cuts.
Going forward, the Chinese policymakers should try to implement the three rules of thumb described by Ray Dalio as closely as possible to get the country's economic growth back on track.
Impact on Chinese-focused mutual funds
With measures in place to support economic growth, the Chinese-focused mutual funds—the Clough China Fund – Class A (CHNAX), the Fidelity China Region Fund Class C (FHKCX), the John Hancock Greater China Opportunities Fund Class A (JCOAX), and the Matthews China Investor Class (MCHFX)—will benefit in the long run. These companies' stock like China Mobile (CHL), Taiwan Semiconductor Mfg Co (TSM), Alibaba Group Holding (BABA), and Youku Toduo (YOKU) may also see revenue growth.