What Are the Major Brands of AvalonBay Communities?
AvalonBay Communities' brands focus on consumer preference as well as location and price. They help differentiate its apartments from the competition.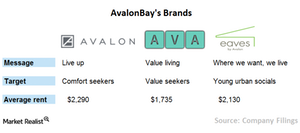 Upscale communities
A substantial part of AvalonBay Communities' (AVB) current communities are upscale, tending to command the highest rents in their respective markets. However, the company also pursue the ownership and operation of apartment communities that target a variety of customer segments and price points, consistent with its goal of offering a broad range of products and services.
Article continues below advertisement
Article continues below advertisement
Three major brands
The company operates its apartment communities under three core brands, which are Avalon, AVA, and Eaves by Avalon. The company believes that this branding differentiation allows it to target product offerings to multiple customer groups and sub-markets within the existing geographic footprint.
The "Avalon" brand is the core offering, focused on upscale apartments and high-end amenities and services in urban and suburban markets. Meanwhile, the "AVA" brand is designed for people who want to live in or near urban neighborhoods and in close proximity to public transportation, services, shopping, and nightlife. AVA apartments are generally smaller, with many being engineered for roommate living. They also tend to feature modern designs and a focus on technology. On the other hand, the "Eaves by Avalon" brand is designed for renters who seek good quality apartment living, often in a suburban setting, with practical amenities and services at a more modest price point.
Brands help to penetrate markets
The company believes that these brands allow it to further penetrate its existing markets by focusing on consumer preference and attitude, as well as location and price. The brands also help AvalonBay Communities to differentiate its apartments from other major competitors such as Equity Residential (EQR), Essex Property Trust (ESS), and UDR (UDR). AvalonBay Communities comprised 3.99% of the holdings of Schwab US REIT ETF (SCHH).
In the next article, we will discuss AvalonBay Communities' acquisition of Archstone Enterprise.