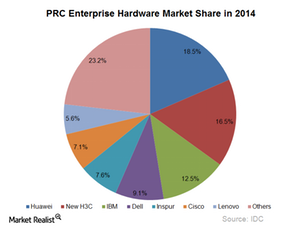 Why Microsoft Has Sought Growth in China through Local Partnerships
Joint venture with Tsinghua Unigroup
It seems that US technology companies have all been trying to penetrate the world's second-largest economy, China (FXI). Relations between US technology companies and China's government appeared to have soured after the former were alleged to have snooped on Chinese networks. However, the companies have started to take initiatives to improve their relationships with China.
Microsoft (MSFT) recently announced that it's forging partnerships with local Chinese technology companies to gain a foothold in China. According to a report from the Wall Street Journal, China's cloud computing player, 21Vianet Group, a Microsoft partner, will set up a joint venture with Tsinghua Unigroup. The latter is a subsidiary of Tsinghua Holdings.
Article continues below advertisement
Tsinghua Unigroup has been in a lot of news lately. Intel (INTC) made a strategic alliance and investment in Tsinghua Group in 2014, buying a 20% stake in Tsinghua Unigroup for $1.5 billion. Then in another more recent event, Tsinghua Unigroup offered $23 billion to acquire Micron Technology (MU) in July 2015.
Tsinghua's subsidiary buys majority stake in H3C technologies
In May this year, another Tsinghua Holdings subsidiary, Unisplendour, bought a 51% stake in HP's (HPQ) data networking operations business, H3C technologies. Unisplendour's H3C acquisition is likely to make the company a leading vendor in China's server and storage market. According to a report from International Data Corporation, or IDC, and as the above chart shows, Huawei leads the enterprise hardware space with an 18.5% market share. It's followed by H3C with a 16.5% market share. IBM (IBM), Dell, Cisco (CSCO), and Lenovo are some other prominent players in this space.