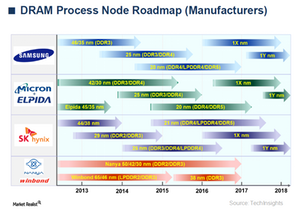 Micron's Strategy for Coping with Declining DRAM Prices
By Puja Tayal

Updated
DRAM prices fall in 2015
Previously in this series, we noted how Micron Technology's (MU) gross margin is sensitive to DRAM prices—falling DRAM prices adversely affect Micron's gross margins. In 2015, DRAM prices have been falling, as the low-cost manufacturer Samsung Electronics (SSNLF) has been selling at a lower price in order to capture the market share. The prices are likely to fall further in 2H15, as Samsung and SK Hynix start producing their computer memory products at two new plants in South Korea (EWY).
Micron's strategy for coping with this competition is to improve its gross margins by effectively reducing its manufacturing costs. At present, the company has higher manufacturing costs than both Samsung and SK Hynix.
Article continues below advertisement
Technology war heats up
Samsung has the lowest manufacturing cost in the DRAM market because it started producing chips on 20-nm (nanometer) nodes in March 2014. But Micron only started using 20-nm technology in 4Q14. While Micron has so far lost the 20-nm battle from Samsung, it's looking to win in the 16-nm process.
New 16-nm technology is currently in development at Micron's plant in Japan. The technology is likely to reduce manufacturing costs and improve the chip's performance more effectively than Samsung's 1x-nm technology, which is rumored to be an 18-nm node. Micron Chief Executive Officer Mark Durcan said, "We absolutely expect to close the gap with Samsung as we move to 16-nm technology, both in timing and in terms of overall deployed bit density in the market."
However, Micron's ability to reduce costs may be constrained due to adjustments made to its diverse product portfolio, including an increased mix of DDR4 and mobile DRAM.
Falling demand for PC DRAM
Another pressing issue for Micron is the falling demand for PC DRAM (personal computer DRAM), which accounts for 30% of the company's DRAM revenue. The Hewlett-Packard Company (HPQ) is a key customer for Micron's DRAM products, accounting for 9% of its net sales in fiscal 2014.
Amid weakness in demand and price, Micron is shifting its production from PCs to mobile DRAM. The company is appraising its inventory in the expectation that both DRAM demand and pricing will increase in 2H15.
The PowerShares QQQ Trust, Series 1 (QQQ) has 0.34% exposure in Micron Technology. In the next part of this series, we'll look more specifically at what makes Micron a key player in semiconductor manufacturing.