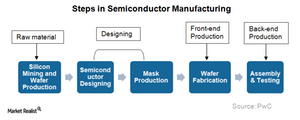 What Makes Micron a Key Player in Semiconductor Manufacturing?
Costly semiconductor manufacturing
Semiconductor manufacturing is a complex process involving several steps, including chip designing, wafer fabrication, assembly and testing. Building a wafer fabrication plant, or fab, requires a huge capital investment of up to $3–4 billion. With every new technology, the size of the chip decreases and the cost per gigabit falls. Semiconductor manufacturers have to upgrade their fabs according to the new technology in order to remain competitive.
Article continues below advertisement
Micron's position in semiconductor manufacturing
In the cycle of semiconductor manufacturing shown above, Micron Technology (MU) handles front-end and back-end memory chip manufacturing. The company relies heavily on the availability of raw materials such as silicon wafers, photomasks, chemicals, gases, photoresist, lead frames and molding compound for the smooth running of its manufacturing operations.
The company uses multiple suppliers to reduce its dependence on one supplier and to mitigate the risk of low supplies of raw materials. However, the company has a limited number of suppliers—in some cases, only one supplier—for advanced products that require specific raw materials and third-party services. For instance, Micron procures photomasks for advanced semiconductors from MP Mask, its joint venture with Photronics (PLAB).
Optimum capacity utilization
Listed above are Micron's principal facilities, which are being used at their optimum levels. It's very important for the company to run these facilities at optimum levels to cover the manufacturing costs. The company upgrades a large portion of its semiconductor equipment every three-to-five years in order to reduce manufacturing cost.
Manufacturing and supply partnership
Another way Micron controls manufacturing cost is through manufacturing and supply partnership. The company has a partnership with Taiwan's (EWT) Nanya Technology Corporation in Inotera. Under this partnership, Micron buys a substantial portion of Inotera's DRAM output at a discount from market prices. When the DRAM prices fall, Micron stands to benefit from this partnership as it purchases DRAM at cheaper rates.
Micron also has a partnership with Intel Corporation (INTC) to develop and produce NAND Flash memory. There's a similar partnership between rivals Toshiba Corporation (TOSBF) and SanDisk (SNDK) to produce NAND Flash memory.
The PowerShares QQQ Trust, Series 1 (QQQ) has 0.34% exposure in Micron Technology. In the next part of this series, we'll look at technology innovation, a key growth driver for Micron.