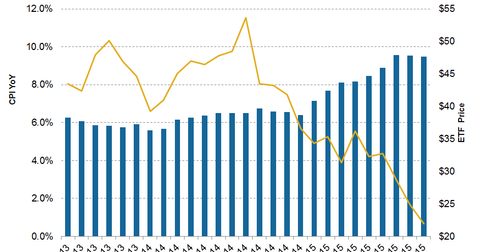 Inflationary Pressure in Brazil Increased in September
By Lara Sheldon

Updated
Brazil inflation rose by 0.54% in September
While falling crude prices are leading to low inflation in the developed world, high oil prices are causing inflationary pressure in Brazil. Brazil's inflation rose by 0.54% in September 2015 against 0.22% in August. The depreciating Brazilian real offset the gains of falling crude prices in international markets.
Inflation, either low or high, is not considered good for any economy. Higher inflation affects consumer purchasing power adversely and reduces consumer confidence in the economy. Equity investors also don't appreciate rising inflation.
The Brazil-focused iShares MSCI Brazil Capped ETF (EWZ) is down 48.1% over the past year as of October 7, 2015. It was one of the worst-performing ETFs in the emerging economies (EEM) (EDC).
On an annual basis, inflation stood at 9.5% in September 2015 against 9.5% in August. It was far above the central bank's target rate of 4.5% plus or minus 2%.
Article continues below advertisement
Housing prices increased 0.32% in September
A monthly increase of inflation by 0.32% was mainly attributable to housing prices jumping 1.3% in September. This increase had a 0.2% impact on the index. Liquefied petroleum gas (or LPG) for residential use rose by 13%, adding to housing prices.
Energy stocks like Petrobras (PBR) and Cosan Limited (CZZ) rose 1.5% and 5.6%, respectively, over the past month as of October 7, 2015. With rising fuel prices, even transportation costs rose 0.71% in September against a decline of 0.27% in August.
To tame inflation, the Central Bank of Brazil has raised the interest rate to a high level of 14.3%. This high cost of borrowing has restricted banks' growth. Stocks such as Santander Brasil (BSBR) and Banco Bradesco (BBD) declined 37.6% and 60.8%, respectively, over the past year as of October 7, 2015.
The tightening of monetary and fiscal policies is not providing respite to the ailing Brazilian economy. Volatility in world markets is further adding to the woes faced by the Brazilian economy, which is already plagued with structural problems.
You may be interested to read The China Slowdown and Global Growth Prospects for 2015.
To remain updated on the economic front, refer to Market Realist's Global ETF Analysis page.