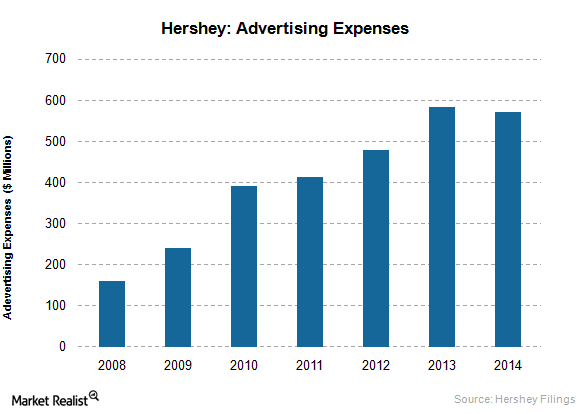 Evaluating Hershey's Marketing Strategies and Initiatives
By Diana Key

Nov. 1 2015, Updated 10:05 a.m. ET
Marketing strategy
The Hershey Company (HSY) is a leader in the US confectionery market (XLP) (IYK), with a marketing strategy focused on strong brand equity, product innovation, and consistently superior product quality.
Hershey's main strengths in marketing are brand awareness and brand loyalty. Its core brands—Kisses, Twizzlers, Reese's, Kit-Kat, and the Hershey Bar—are not only strong pillars but among the top ten candies of all the time.
Article continues below advertisement
Hershey's focus on North America—a weakness?
Although Hershey sells its products to more than 70 countries, the company does 80% of its marketing in the North America. Hershey's competitor Mars is a private company, but it has many associated companies and sells various brands around the world. Nestle (NSRGY) and Mondelez International (MDLZ) are leading confectionery brands in many countries. Compared to its competitors, Hershey's dependence on the North America market could thus be considered a weakness.
Micro-marketing
Hershey applies a micro-marketing concept to its businesses, which means that it markets certain products to small target audiences, tailoring its products to meet these audiences' particular demands. Hershey thus aims to give its customers a larger range options by personalizing their products at higher prices. And even with the small number of custom sales that this approach earns, personalized bars earn good margins and revenues for the company. The company also has pre-designed arrangements for weddings, baby shower, birthdays, and holidays.
Article continues below advertisement
New marketing initiatives
Hershey has been increasing its advertising budget to make its product innovations public. In 2013, Hershey increased its advertising- and consumer-related marketing expenses by 19.7% in support of its core brands and in the introduction of new products to the US and international markets. In 2014, however, the company's advertising expenses declined due to the timing of new product launches.
In the first three fiscal quarters of 2015, Hershey invested 20% of its total media on digital media—three times more than the previous year. Hershey also partnered with North Castle Partners for fully integrated marketing programs for all of its refreshment and sugar confectionery brands. North Castle is an advertising agency with expertise in teen and young adult marketing. The agency supports Hershey's brand-building practices aimed at meeting changes in consumer lifestyles.
Holiday marketing
Hershey relies on a range of advertising techniques during the holiday season. Every holiday, it designs a special theme for chocolates and candies. It also makes sure that Hershey products everywhere are displayed with the appropriate holiday theme.
Continue to the next part of this series for a closer look at Hershey's shift in focus from supply to demand in 2015.