Under Armour's Footwear Business versus Skechers and New Balance
Primarily an apparel player, Under Armour (UA) has stepped up its pace in entering new footwear categories.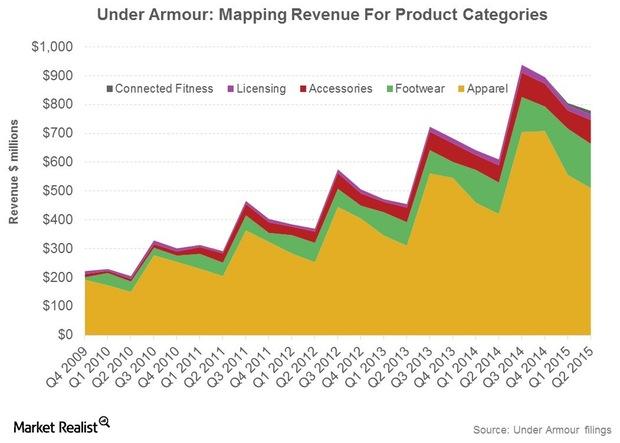 Stepping up to footwear
Primarily an apparel player, Under Armour (UA) has stepped up its pace in entering new footwear categories. It's been releasing new footwear models, boosted by the steady strides made in categories like football cleats and the sellout success of the Curry One.
Footwear is expected to be the fastest-growing category for Under Armour over the next few years. Under Armour expects to quadruple its revenue from footwear to ~$1.7 billion in 2018 from ~$0.4 billion in 2014.
This September, UA launched the Curry Two in China. The Curry line is a signature basketball footwear line named after the NBA 2014–15 MVP award holder Stephen Curry. UA is also expanding its offering in categories like golf, training, and running.
Article continues below advertisement
Article continues below advertisement
Footwear competition
But at the same time, UA is a relative minnow when it comes to global footwear giants Nike (NKE), Adidas (ADDYY), and Puma (PMMAF). For example, global athletic footwear leader Nike clocked footwear sales of $18.3 billion in fiscal 2015, about 2.2% of UA's footwear sales in 2014.
Currently, UA also trails US athletic footwear rivals Skechers (SKX) and New Balance in terms of market share. Both companies had an estimated market share of ~5% in the United States as of June 2015.[1. The NPD Group]
Future strides
Given these factors, UA's gains in footwear will likely come as a result of the overall market growing, as Nike, Skechers, and New Balance have established business models and are growing quickly too, particularly Skechers. Skechers, which is primarily a footwear player, grew its sales by 36.5% last quarter to a shade over $0.8 billion. In comparison, UA grew its footwear sales by 40.2% to $0.15 billion.
New Balance is privately held, with annual sales estimated at $2.2 billion in 2012, up from $1.3 billion in 2002. Half of these sales came from outside the United States in 2012.
Footwear smarts
While UA has concentrated on sponsorship ties with clubs and signing up star athletes on its roster, Skechers has marketed its trendy footwear primarily to the youth market. Skechers has signed on celebrities like pop star Meghan Trainor and singer and actress Demi Lovato.
The youth demographic is a faster-growing segment compared to both the men's and women's segments. Dollar sales of children's athletic footwear were up 11% year-over-year for January–June, 2015, compared to an 8% increase for both men and women.[2. The NPD Group, Retail Tracking Service]
Nike, Under Armour, and Skechers together constitute 1.1% of the portfolio holdings in the Schwab US Large-Cap Growth ETF (SCHG).