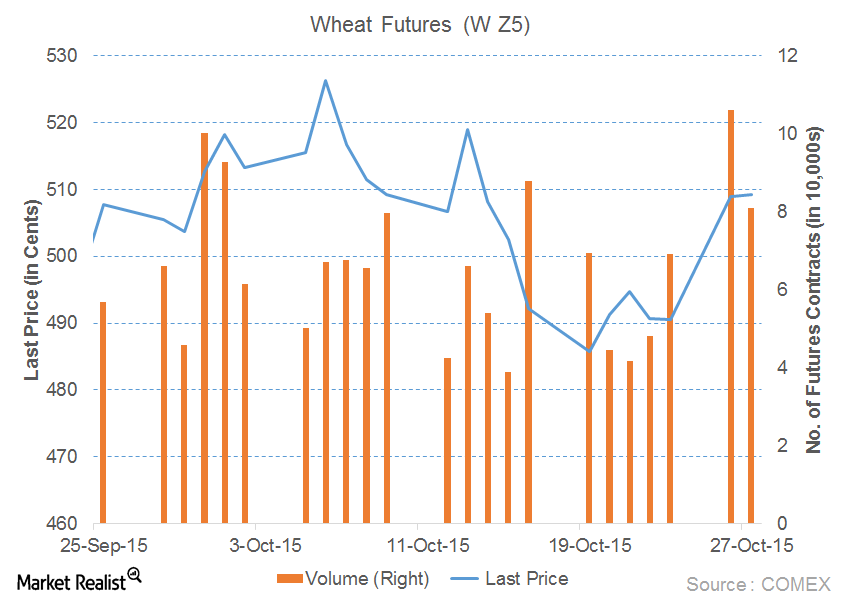 How Would Changing Weather in the US Plains Affect Wheat Prices?
Wheat prices rise
Wheat December futures contracts trading on the CBOT (Chicago Board of Trade) increased by 0.05% and settled at $5.09 per bushel on October 27, 2015. It was the second-consecutive trading day rise.
Wheat futures prices rose due to speculations of unfavorable weather in the US Plains. In contrast, ETFs such as the Teucrium Wheat ETF (WEAT) fell by 0.86% on October 27, 2015.
Although Hurricane Patricia missed a large part of the US Plains, there have been reports of expected precipitation in the region for the week ending October 31, 2015.
Article continues below advertisement
Dry weather conditions that could hurt the US Plains wheat crop may substantially reduce if precipitation occurs. Precipitation would help topsoil and subsoil to maintain minimum levels of required moisture. Further, it could affect the quality of the crop, which showed lower-than-expected results in the October 26, 2015, crop progress report.
Drier-than-normal weather could contract supply in the Black Sea and Australian regions. Alternately, precipitation expectations for Russian regions have been strong.
Longer-than-expected dry weather has hurt the wheat crop in Australia, resulting in a production fall, according to the Australian Ministry of Agriculture last week. Moreover, the Canadian Prairies, one of the critical regions for wheat production, are also expected to remain dry.
Dry weather and normal precipitation over many other regions supported wheat futures prices on October 27, 2015. However, this has failed to lift pressures from inventories on hand around the world.
Food stocks affected
The rise in wheat prices has affected food businesses negatively. Share prices of Hormel Foods (HRL), Pilgrim's Pride (PPC), J.M. Smucker (SJM), and General Mills (GIS) fell by 1.2%, 0.05%, 0.19%, and 0.15%, respectively, on October 27, 2015. The Materials Select Sector SPDR ETF (XLB) also shrank by 0.43% on the day.