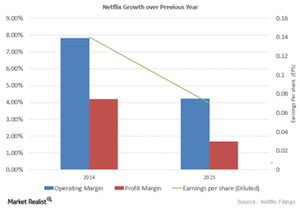 Analyzing Netflix's Operating Efficiency and Cash Flow in 3Q15
By Parker Thomas

Updated
Higher operating expenses
According to its 3Q15 earnings report, which was released on October 14, 2015, Netflix (NFLX) reported consolidated revenues of $1.7 billion compared to 1.4 billion in the same period the previous year—an increase of 23.3%. As we discussed previously in this series, the biggest contributor of Netflix's revenue continues to be the international market.
However, in 3Q15, the company incurred significantly high marketing costs while promoting their services to the international market. Marketing costs in 3Q15 remained at $208 million, compared to $145 million in the same period the previous year—an increase of 2 percentage points on a relative basis (compared to revenue generated). Moreover, costs from technology and development and G&A (general and administrative) also remained a bit high compared to previous year.
Article continues below advertisement
In the contribution margin for domestic streaming, Netflix reported a fall of seven basis points compared to the previous quarter, whereas the contribution margin for international streaming remained negative in 3Q15, at -13.1%. International streaming still improved compared to the margin of the previous quarter, which was -20.2%. Since expenses from operations stood high as well, income fell to $73.6 million for 3Q15—a decrease of 1.2 million compared to previous quarter.
Non-core expenses and the bottom line
In the first quarter of 2015, Netflix added a long-term debt of $1.5 billion to their previously existing $9 billion debt, which brought interest expenses to $35 million and at the same time narrowed the bottom line. However, the company's net income remained positive in 3Q15, reaching $28.2 million, compared to -$10.4 million one year previously. Its diluted EPS (earnings per share) stood at $0.07 in 3Q15 compared to -$0.02 in the previous quarter and $0.14 in the same quarter one year prior.
In 3Q15, Netflix's non-GAAP cash flow from operations remained negative at $2.3 million, down from $2.5 million the previous quarter. This was primarily due to the company's investments in original programming, which involved higher cash spending, amortization, and a differed tax liability totalling $29 million. Cash flow from operating and investing activities stood negative, at $1.95 billion and $47 million, respectively.
The First Trust ISE Cloud Computing Index Fund (SKYY) is a portfolio of 36 stocks with exposure to Amazon.com (AMZN), Netflix (NFLX), Facebook (FB), and Google (GOOG), which constitute 4.98%, 4.54%, 4.54, and 4.52%, respectively, of the portfolio's holdings.
Continue to the next part of this series for a look at why Netflix is blaming US banks for its low domestic numbers.